Casio Celviano GP300BK Hybrid Digital Piano
---
Pickup In Store
0 Available in Newcastle Store
Casio Celviano GP300BK
The GP-300 from Casio is a revolutionary new piano hybrid from CASIO, capable of producing the subtlest nuances of the feel and tone of the world's most respected pianos. The landmark "Natural Grand Hammer Action" keyboard is made with full-length, wooden keys for genuine touch and dynamics. Numerous next-generation functions such as the Concert Play mode which allows you to play the role of a solo pianist within an orchestral performance, the ability to record in CD quality straight to portable storage and the Grand Hybrid experience make the GP-300 the best of old and new world technology. Perfect for professionals, casual performers, schools or venues.
Three Legendary Pianos
Their individual character and tone faithfully recreated
Berlin [ Berlin Grand ]
A balanced, elegant sound. Ideal for playing impressionistic music. Notable for its clear, ringing tone across the entire range.
Hamburg [ Hamburg Grand ]
A brilliant, rich sound. Loved by pianists for its wide range of expression. Well suited for various playing styles and genres.
Vienna [ Vienna Grand ]
Noted for its impressive low range. Great for both soft and vigorous playing with its warm tone. An ideal instrument for music from the classical period.
Sound Development in Collaboration
The Berlin Grand sound was developed in collaboration with C. Bechstein. CASIO sought a clear, balanced and elegant sound for CELVIANO Grand Hybrid. D282, C. Bechstein's ultimate masterpiece, is the model CASIO intensively studied to achieve the goal. Mr. Albrecht, Service Director and Master Piano Maker at C. Bechstein, visited CASIO R&D to supervise the sound development process through the final modification.
About C. Bechstein
Since Carl Bechstein founded the Pianoforte production facility in Berlin in 1853, the name C. Bechstein has stood for the highest class of upright and grand pianos. C. Bechstein pianos have been appreciated by many famous composers and artists for their finest quality of sound and touch for many years. In the 21st Century, C. Bechstein is still recognized as one of the world's leading piano manufacturers.
AiR Grand Sound Source
The CELVIANO Grand Hybrid incorporates AiR Grand Sound Source, a newly developed system using CASIO's state-of-the-art sound technologies. It includes many impressive features. Multi-dimensional Morphing delivers smooth changes between soft and strong playing. Acoustic Simulator reproduces the characteristics of sounds produced by acoustic grand pianos. The authenticity generated by the AiR Grand Sound Source ensures a pure piano experience.
Learn more
Multi-dimensional Morphing
On an acoustic grand piano, the volume and quality of sounds change from the time the keys are struck until they die away. CASIO's Multi-dimensional Morphing technology enables natural, smooth transitions in sound volume and tone based on the power of the keystroke. This technology contributes to more expressive performances.
Resonance System
The various types of resonance in a grand piano are crucial to the playing experience. The CELVIANO Grand Hybrid incorporates String Resonance, which exposes the harmonic relationships between various strings when keys are struck. Also Damper Resonance reproduces the resonance occurring when a damper pedal is pressed. CASIO's Resonance System reproduces the resonance of both the strings and sound board of a grand piano by selecting, controlling and synthesizing according to performance conditions.
Key Off Simulator
The lengths of the lingering sounds produced by a grand piano vary depending on the speed at which players release their fingers after pressing the keys. In a similar fashion, CASIO's Key Off Simulator controls the length of these sounds based on the key's release speed. This enables players to express delicate nuances when playing staccato and legato.

Hammer Response
The timing of a grand piano's sound varies subtly depending on which keys are being played, even when the keys are struck with the same force. To achieve optimal authenticity, CASIO has installed appropriate settings for each of the three grand piano tones. The sound production timing can also be adjusted to suit the player.
Grand Pedal System
By continuously sensing and detecting the position of the damper pedal, CASIO's Grand Pedal System enables fine-tuning of the damping volume and note length depending on the degree of pedal depression. In addition, the Half Pedal Position function permits adjustment of the depression position at which the damping effect comes into play according to the player's preference. The Action Sound System's Damper Noise and Pedal Action Noise features, in the case of the GP-500BP, reproduce even subtle operating sounds like that experienced with an acoustic grand piano.
Grand Acoustic System
CASIO has developed a new dedicated speaker system for the CELVIANO Grand Hybrid that reproduces the characteristics of sound emanating upwards and downwards from an acoustic grand piano. The four-channel audio system incorporates six speakers, carefully positioned in a structural design that releases sound outward from the interior of the body. The system delivers the same sound field experience a player would enjoy while playing an acoustic grand piano.
Adjustable Lid Position & Lid Simulator
The CELVIANO Grand Hybrid's design includes a top panel that can be manually raised and lowered. The lid's position not only physically affects the sound coming from the upper speakers, but also works in conjunction with the "Lid Position" setting to accurately duplicate the characteristics of the adjustable lid on an acoustic grand piano.
The volume and timbre of sound produced by a grand piano change depending on the degree to which the lid is open or closed. The Lid Simulator simulates these acoustic effects digitally. Pianists can select among four settings for opening and closing stages and enjoy playing music with the piano sound effect of their choice.
*The Lid Simulator's setting value remains unchanged, regardless of whether the piano's top board is open or closed.
Hall Simulator & Listening Position
Twelve types of Hall Simulator are included; each one based on careful analysis of the acoustic characteristics of a world-famous concert venue. Each space has a total of four Listening Position settings. For example, the pianist can simulate the experience of hearing the piano from a seat in the audience, as opposed to the playing position.
Volume Sync EQ
Volume Sync EQ is especially useful for quiet playing at home and other times when you want to keep the speaker volume low. This function balances the sound at low volumes by adjusting the sound quality in the low and high registers. The result is a constantly pleasant playing experience, no matter where the volume is set.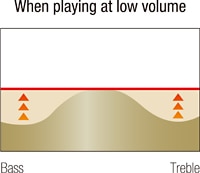 When the piano is played at low volume, natural sound is maintained through compensation of the tone in the low and high ranges.
Headphone Mode
Headphone Mode automatically creates a spacious sonic image while wearing headphones, recreating the feeling of playing an acoustic piano. With the experience of wearing headphones significantly enhanced, pianists can enjoy playing naturally and feeling the sound field of a traditional grand piano.
Touch
Your performance demands authenticity
It begins at the first touch
The player's movement is transformed into music with many important factors. The most tangible factor is the keys. CELVIANO Grand Hybrid delivers authenticity from the first touch. The revolutionary new Natural Grand Hammer Action keyboard is made with full-length, wooden keys. Its new mechanism incorporates real hammers that follow the same path of motion as in a concert grand piano. When the lid is lifted, you can see the hammers in motion through a clear panel as you play. Going beyond a standard acoustic mechanism, this new action allows faster note repetition than acoustic pianos, while maintaining a true piano touch.
Natural Grand Hammer Action Keyboard
For an authentic piano touch, CASIO has developed a new keyboard system called the "Natural Grand Hammer Action Keyboard". This keyboard system features full-length wooden keys as well as hammers that follow the same path of motion as in a concert grand piano. CELVIANO Grand Hybrid features keys that are manufactured using exactly the same materials as acoustic grand piano. Careful attention is paid not only to finish of the surfaces of the keys but also to the quality of the wood employed for the key beds. This combination of an outstanding action mechanism and superior-quality key materials further enhances the sensation of playing an acoustic grand piano.
Learn more
1. Original Tri-Sensor action mechanism
The core of CELVIANO Grand Hybrid's keyboard performance is created by CASIO's proprietary action mechanism. This mechanism includes a hammer movement modeled from a grand piano and three sensors, which accurately capture a performer expression from the keys. Since there are no physical strings, CASIO's action is able to exceed the performance characteristics of a grand piano, providing superior playability that enables pianists to perform such actions as trills and repetitive notes with ease.
2. Keyboard surface materials
The use of acrylic for the white keys and phenol for the black keys — the same materials that modern grand pianos employ. This creates a welcome and familiar touch. Pianists will feel comfortable and confident on the keys of CELVIANO Grand Hybrid.
3. Fulcrum distance from keys
The position of the fulcrum with respect to the keys is exactly the same as with a grand piano. This contributes to stable playing performance, since the touch is never heavier or lighter depending on the position at which a finger strikes a key.
The keyboard is made of the same high-quality Austrian spruce as the keyboards on C. Bechstein grand pianos. Careful attention is paid to drying and processing of this high-quality material before keyboard construction begins.
The keyboard is developed to ensure superior piano performances by considering each of the 88 keys independently and how they perform together as a single unit. Perfection of the keyboard is pursued as well through attention to such factors as load changes and key return speeds.
Beyond simply detecting the overall force of a key being played, the entire travel of the key is precisely modeled after the behavior of a grand piano
Experience
The Grand Hybrid experience goes far beyond playing piano
Play a legendary space
CELVIANO Grand Hybrid includes a Hall Simulator featuring numerous world-class performance venues. Using advanced analysis and signal processing, CASIO has recreated the acoustic characteristics of renowned concert halls, opera houses, cathedrals and other performance spaces around the world. You can instantly select one of these settings, creating an immersive atmosphere for your performance.
Learn more
Play with a symphony orchestra
CELVIANO Grand Hybrid's Concert Play feature gives you the role of solo pianist with an orchestral performance. The sound system plays the orchestral part accompanying you. Works by Tchaikovsky, Pachelbel, Smetana and others are featured. The tempo of these pieces can be slowed down to facilitate practice.
Learn more
Features
Concert Play
Playing with an orchestra is an extraordinarily thrilling event. Concert Play feature demonstrates orchestral performance for a pianist to enjoy an experience of playing as a soloist accompanied by a full orchestra. 15 pieces of music are built in. When you practice, a convenient playback function offers capabilities of play, pause, fast-forward, rewind and A-B segment repeat. Using a Slow Mode, the tempo of these pieces can be slowed to 80% of normal speed as needed.
| | |
| --- | --- |
| Series | No |
| SKU | GP300BK |
| warehouse_eta | N/A |
| Colour | N/A |
| Warranty | Yes |
Product Q&A
No questions yet. Be the first to ask the question!
Audio Recorder
CELVIANO Grand Hybrid pianos have the ability to record performances on USB flash memory available on the market as stereo audio files (44.1 kHz, stereo .WAV format). Recordings can be stored or played back on a computer or transferred to CDs or other media. The piano's built-in full playback function permits use of such features as pause, fast-forward, rewind and A-B segment repeat.
*Software available on the market may be required for producing CDs.
MIDI Recorder
This function enables players to record their own performances freely in the CELVIANO Grand Hybrid's memory. It helps users improve their playing skills by reviewing their own performances objectively afterwards. This full playback function permits use of such features as pause, fast-forward, rewind and A-B segment repeat during playback.
Music Library
CELVIANO Grand Hybrid includes 60 piano pieces in its "Music Library". The scores for these pieces are included and CELVIANO Grand Hybrid's features are ideal for learning. Left and Right hand parts can be practiced separately. Tempo can be changed and an A-B segment repeat allows you to practice a section of the piece. Each piece has a selected preset tone but players can enjoy their own choice from the Berlin Grand, Hamburg Grand and Vienna Grand tones.
*Some musical scores are not published due to copyright issues.
Duet Mode
The keys to the left and right of center on the keyboard can be set to the same tonal range. This Duet Mode is convenient when two players, such as a parent and child or a teacher and student, practice together.
Layer and Split
The layer function enables pianists to overlap two types of tones, while the split function lets them separate tones into lower and higher blocks.
Auto Power Off
To conserve energy, CELVIANO Grand Hybrid will Automatically Power Off when the instrument has not been played for 4 hours.
Ergonomic Interface
Intuitive control of CELVIANO Grand Hybrid is possible through a simple, considerately designed control panel. The Berlin Grand, Hamburg Grand and Vienna Grand are easily accessed with dedicated buttons for each piano tone.
Keyboard

Natural Grand Hammer Action Keyboard (Sames wood as C. Bechstein grand pianos)

Touch Response

5 sensitivity levels (Heavy 2, Heavy 1, Normal, Light 1, Light 2), Off

Sound Source

AiR Grand Sound Source

Maximum Polyphony

256

Tones

26 built-in tones: BERLIN GRAND, BERLIN GRAND MELLOW, BERLIN GRAND BRIGHT, HAMBURG GRAND, HAMBURG GRAND MELLOW, HAMBURG GRAND BRIGHT, VIENNA GRAND, VIENNA GRAND MELLOW, VIENNA GRAND BRIGHT, GRAND PIANO MODERN, GRAND PIANO ROCK, GRAND PIANO JAZZ, ELECTRIC PIANO 1, ELECTRIC PIANO 2, FM E.PIANO, 60'S E.PIANO, HARPSICHORD, VIBRAPHONE, STRINGS 1, STRINGS 2, PIPE ORGAN, JAZZ ORGAN, ELECTRIC ORGAN 1, ELECTRIC ORGAN 2, ACOUSTIC BASS, RIDE BASS

Layer/Split

Layer / Split

Digital Effects

Hall Simulator: 12 types, Listening Position Settings: Player's Position 1type, Listener's Position 3types, Chorus: 4 types, Brilliance: 7 levels, DSP: (Preset for some tones)

Built-in Songs

Concert Play (Audio Song): 15, Music Library (MIDI Song): 60, Grand Piano Tone Demo: 6

Song Expansion

10 Approx. 900KB (Up to approx. 90KB/song)

Lesson Function

Right hand off, left hand off, both parts off

Metronome

Beats: 0 to 9 (Tempo range: quarter note = 20 to 255)

Recorder

[MIDI Recorder] 2 tracks x 1 song, approximately 5,000 notes maximum, real-time recording/playback
[Audio recording] Max. 99 songs approximately 25 min/song (44.1kHz WAV Format)

Other Functions

Number of Preset Temperaments: 17
Top Board Open / Close
Volume Sync EQ: 3 levels, off
Headphone Mode

Key Transpose

2 octaves (-12 semitones ~ 0 ~ +12 semitones)

Tuning Control

A4 = 415.5Hz ~ 440.0Hz ~ 465.9Hz

Pedals

Grand Pedal System
3 pedals(Damper, Soft, Sostenuto)
Half Pedal Effect for Damper: Continuous recognition, 5levels position

MIDI

IN / OUT

Speakers

16 cm x 2 + (10 cm + 5 cm)x 2
3-way, 6-speakers

Amp Output

30W x 2 + 20W x 2

Input/Output Terminals

USB TO HOST, USB TO DEVICE
MIDI IN / OUT
PHONES / OUTPUT: 2 (Stereo standard)
LINE IN: 2 (L / MONO, R), Standard jack
LINE OUT: 2 (L / MONO, R), Standard jack

Power Requirements

AC Adapter : AD-E24500LW

Dimensions (W x D x H)

1,434×489×963 mm (w/o score stand)

Weight

77.5 kg

Body Color/Finish

Satin Black

Included Accessories

Score Stand, Score Book, Bench, AC Adapter

EAN code

4971850362159
Ordering
Is this product in stock?
We try our best to have everything in stock, but sometimes items sell out faster than we can update the website, as this is a manual process. If this is the case we will call or email you and let you know if your order cannot be fulfilled, and what your options are as soon as possible. We have multiple warehouses around the country so the "in stock" and "out of stock" is an indication of if the item is able to be shipped from one of them, our store, or one of our distributors. Most of the time there is no difference in turn around depending where it is shipped from but if there are any delays we will contact you immediately. We do also ask if you plan on picking up an item, please contact us so we make sure it is in our store ready for you.
I want a certain product but I don't see it on your site, Why don't you have it!!!?
We have a HUGE store here in Newcastle (which we would love to see you in) and not every product we stock is online & vice versa, but if you don't see what you are after, give us a call or email and we will chase it down for you!
Is everything on your website in stock?
We try our best to have everything in stock, but sometimes items sell out faster than we can update the website, as this is a manual process. If this is the case we will call or email you and let you know if your order cannot be fulfilled, and what your options are as soon as possible.

Do all the guitars come set up & with strings?
They sure do! All the guitars are set up at the factory & often once in the country as well! Every guitar we sell is ready to play (after a quick tune of course)
Price Match
Do you price match?
Yes we do! We will do our very best to match & beat any genuine Australian quote!
Just email us a link to the cheaper product and we will match or beat it for you (Prices valid for 48 hours) The Musos Corner Price Match option only applies when comparing identical products in the same condition, where payment is made in full by cash, eftpos or credit card. It is subject to verification and does not apply to ebay, american or overseas sites (come on guys), global sounds, grey importers, bulk buy discounts or site licence prices apply or to prices of other sellers that are available for less than one week. Price Match does not apply if original price retailers are out of stock or if Musos Corner is out of stock of the product in question. That said, we will always endeavour to pass on the very best price we possibly can.
Payments
Pricing Policy
All of our prices are in Australian dollars (AUD) and include Australian GST (Goods and Services Tax). All transactions are processed in AUD.
In this industry our suppliers can often change their prices quickly and without notice. Sometimes the website or the store will not accurately represent these price changes and sometimes there may be genuine pricing errors due to either technical or human error. In these instances we are not bound by the information offered in error and may not be able to honor the incorrect price, but we will explain the error to you and do everything we can to pass on the best possible deal.
Do you guys Lay-by?
We certainly do in store, for an online lay-by each one is selected upon its own merrits with a 50% Deposit if approved. For in store Lay-bys: 20% Deposit, followed by weekly or fortnightly payments for 8 weeks. If cancelled, a 20% of RRP Fee will incurr.
Freight
How do I know if my item ships Free?
Many products we stock have free shipping to certain locations.
Please put in your address into the freight calculator and if there is free freight there will be no charge for delivery. Items on ZipMoney, ZipPay, or Studio19 Finance may not be eligable for free delivery. We will contact you if this is the case.
Free Postage Details
Some items such as certain pedals and stomp boxes, accessories and effects may have free postage. This will go via the cheapest method. Courier/Express/Insurance/Registered Post would be extra. Please contact us.
Express Post
We can Express Post/Courier your items if necessary but additional charges may apply. Orders generally leave at 2:00pm daily so if you need an item ASAP, make sure it is ordered by 1pm (please call 1300 687 672) to ensure there is stock of the item and to get an estimated time of arrival. Express post is to capital / major cities only (for next day service). This service is for items under 5KG only!

How can I track my order?
Check your email and you will have been sent a tracking number, input the number into either Fastway Couriers, Startrack or Australia Post's Track & Trace engine. If you have any problems, please call us and we will call the couriers on your behalf.

Do you take international orders?
Sorry, we do not take international orders, we only sell and ship around Mainland Australia & Tasmania. For remote & Island locations please contact us.
How much is shipping?
To work out a shipping cost, please go through the cart and our system will work out a freight price to your area.
If you think there may be an error, or want to clarify the price, you are welcome to contact us and we will work out the best shipping price for you.
There may be some exceptions for heavy or large items (over 25kg), remote locations or some regional areas. We will contact you if this problem arises prior to shipping the goods.

Do you offer freight insurance?
We certainly do, and highly recommend it as Australia is a big country. Insurance / Shipping protection is available and is only 1.5% of the value of the goods.

Can I pick my goods up in store?
Of course! Unlike some stores, we do not charge for you to pick up in store. We are open 7 days for your convenience, but please give us a date and time of pick up so we can make sure your goods are ready. Orders that are left for over 1 week and not picked up will be returned to stock, unless other arrangements have been made. Valid ID will be required for picking up goods that have been paid for online or over the phone.
What if I am not home for the delivery?
IF you are not home, the driver will leave a card in your mail box so you can pick-up from the local depot/post office or arrange a re-delivery.
We have found it to be much quicker & easier to have all items sent to a business address where someone will be present.

Can I ask for the courier to leave the goods at my door?
Whilst it Is possible, we highly recommend that you do not do it. All freight warranty & insurance will be void. Only do so at your own risk, if someone steals it, Musos Corner & The freight company will not be held accountable.
If you will not be able to take the delivery, it might be worth asking a friend or neighbour to take delivery of it for you.

What if it appears my goods have been freight damaged?
Please check all items before signing for them! This is very important. Do not sign for an item that appears damaged, to sign for them means "Signed for in good working order" and subsequently is out of the couriers hands, and voids insurance. If this was not possible, there can be a 24 Hour window to try and claim insurance, please contact us & the courier immediately. This only applies to orders that have paid for Insurance & are sent via courier.

Can the courier or delivery person call me prior to delivery?
Unfortunately as often as we request this, we get denied as many times. No courier or Australia post worker will call you prior to delivery despite any bribes we may try and offer.
If you select courier we will send you a tracking number which you can use to find out an estimated time of arrival for your goods, or alternatively have it sent to a business address.

Can I have my goods delivered on the weekend or after hours?
Unfortunately this is not possible at the current point in time, however you are welcome to pickup in store late night Thursday or on weekends from our Newcastle store. Please contact us to set a pickup time.
I've been emailed a tracking number, how do I track it?
The number should look like Fastway FA0000001 or Startrack YTP0000 or Aus Post 111111, Simply go to the website of the company it was sent with (Fastway,Startrack Express, Australia Post) and trace it there.
Do i need to set up my product?
All guitars some fully set up ready to play (after a quick tuning). Banjos will need to be set up after delivery as they cannot be shipped set up unless they are bought with a case. Some products like piano stands require some basic assembly as they are flat packed for shipping.