Gibson Thunderbird Bass 2015 - Vintage Sunburst
---
Pickup In Store
1 Available in Newcastle Store
There are some guitars—the Les Paul, the SG, the Flying V—that are instantly recognizable, their iconic shapes having long been embedded into the hearts and minds of music enthusiasts everywhere. The Gibson Thunderbird IV bass joined this distinguished lineup shortly after its introduction in 1963. The Thunderbird's unique "reversed" zig-zag body design and equally distinct headstock was the brainchild of legendary automotive designer and visionary Ray Dietrich, enlisted by Gibson to bolster the guitar lines of the early '60s and help solidify the company's eminent rank among solidbody electric guitar manufacturers.Today's Thunderbird IV—with its huge, thunderous sound—is still a benchmark of innovation, functionality, and style, and continues to symbolize Gibson's drive to achieve creative excellence.
New and Improved in 2015
| | |
| --- | --- |
| Series | No |
| SKU | BAT15VSBC1 |
| warehouse_eta | N/A |
| Colour | Sunburst |
| Warranty | Yes |
Product Q&A
No questions yet. Be the first to ask the question!
Body
| | |
| --- | --- |
| Body Style | Thunderbird Bass |
| Body Species | Mahogany |

Hardware
| | |
| --- | --- |
| Plating Finish | Black Chrome |
| Tailpiece | Three Point Adjustable Bass Bridge |
| Tuners | Grover Bass |

Electronics
| | |
| --- | --- |
| Neck Pickup | TB+ Humbucker |
| Bridge Pickup | TB+ Humbucker |
| Pickup Covers | Yes |
| Controls | 2 Volume - 1 Tone |
| Control Knobs | Black Tophats with Silver Inserts |
| Control Pocket Cover | Black Plastic |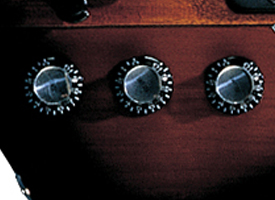 Neck
| | |
| --- | --- |
| Species | Mahogany/Walnut Laminate |
| Nut | Corian |
| Nut Width | 1.500" +/- .050" |
| Truss Rod | Gibson Adjustable Truss Rod |
| Truss Rod Cover | Thunderbird cover, stamped with Gibson Logo |

Fingerboard
| | |
| --- | --- |
| Fingerboard Species | Rosewood |
| Inlays | Acrylic Dot |
| Number of Frets | 20 |
| Scale Length | 34" |

Angled Headstock
The Thunderbird's distinct headstock stays true to Gibson's industry-changing way of thinking. Like every Gibson headstock, the angled Thunderbird headstock is carved out of the same piece of mahogany as the neck. The angle is carefully set to 14 degrees—instead of the traditional 17 degrees—to accommodate the headstock's radical contour and to keep pressure on the strings. The headstock's form ensures straight string pull, which, when combined with the increased string pressure, means there is no loss of string vibration between the corian nut and the tuners, equaling better sustain. Black chrome-plated Grover bass tuners provide the necessary clearance between tuner buttons, allowing for comfortable access and uncomplicated tuning.
'60s Rounded Bass Neck Profile
No guitar neck profiles are more distinguishable than the neck profiles on the Gibson models of today. The '60s rounded bass neck profile on the Thunderbird IV is based on the more modern, slim-tapered necks most commonly associated with the Les Paul and SG models of the early 1960s. The neck is machined in Gibson's rough mill using wood shapers to make the initial cuts. But once the fingerboard gets glued on, the rest—including the final sanding—is done by hand. That means there are no two necks with the exact same dimensions. So while it still has the basic characteristics of its respective profile, each neck will be slightly different, with a distinct but traditional feel.
TB Plus Ceramic Magnet Humbuckers
The pickups on the early Gibson basses of the 1960s remained unchanged for many years, undergoing only minor cosmetic modifications from time to time, but staying true to the originals' sonic characteristics. The pickups in today's Thunderbird IV—two vintage-style TB Plus humbuckers—both capture and recreate the classic attributes of those early Gibson basses. The TB plus humbuckers are traditional hum-cancelling bass pickups with ceramic magnets. They are wax potted then filled with epoxy, producing a full frequency, heavy-bottom sound similar to pickups with a passive EQ, and delivering the huge, powerful bass tone the Thunderbird IV is renowned for.
Three-Way Adjustable Bridge and Tailpiece
Gibson's innovative three-way adjustable bridge and tailpiece combo is the standard for simplicity and functionality. It provides players with the ability to adjust and fine-tune the height of the Thunderbird IV's bass strings in all directions—front, back, and side-to-side—which gives the bridge a "floating" feature, thus allowing the bass to be equipped with a variety of string gauges and multiple set-up options. The Thunderbird IV's legendary resonance, tone, and sustain is the result of anchoring the bridge directly into the body at its three adjustable points, which provides a firm seating for the strings and yields a strong union between the strings and body. Readily accessible screws make setting the intonation simple and unproblematic. To this day, Gibson's three-way adjustable bridge remains an industry standard. It is the epitome of form and function in bass guitar bridge design.
Neck-Through-Body Construction
The Thunderbird IV's multiple-wood-ply construction is as structurally and aesthetically innovative as any Gibson feature. The neck and center piece of the body are constructed from solid mahogany, as are the two wings that are glued on to each side to form the Thunderbird's distinct outline. Gluing all the pieces together ensures maximum "wood-to-wood" contact, and allows the neck and body to function as a single unit. This neck-through-body construction results in better tone and unsurpassed sustain, and no loose or misaligned necks.
Ordering
Is this product in stock?
We try our best to have everything in stock, but sometimes items sell out faster than we can update the website, as this is a manual process. If this is the case we will call or email you and let you know if your order cannot be fulfilled, and what your options are as soon as possible. We have multiple warehouses around the country so the "in stock" and "out of stock" is an indication of if the item is able to be shipped from one of them, our store, or one of our distributors. Most of the time there is no difference in turn around depending where it is shipped from but if there are any delays we will contact you immediately. We do also ask if you plan on picking up an item, please contact us so we make sure it is in our store ready for you.
I want a certain product but I don't see it on your site, Why don't you have it!!!?
We have a HUGE store here in Newcastle (which we would love to see you in) and not every product we stock is online & vice versa, but if you don't see what you are after, give us a call or email and we will chase it down for you!
Is everything on your website in stock?
We try our best to have everything in stock, but sometimes items sell out faster than we can update the website, as this is a manual process. If this is the case we will call or email you and let you know if your order cannot be fulfilled, and what your options are as soon as possible.

Do all the guitars come set up & with strings?
They sure do! All the guitars are set up at the factory & often once in the country as well! Every guitar we sell is ready to play (after a quick tune of course)
Price Match
Do you price match?
Yes we do! We will do our very best to match & beat any genuine Australian quote!
Just email us a link to the cheaper product and we will match or beat it for you (Prices valid for 48 hours) The Musos Corner Price Match option only applies when comparing identical products in the same condition, where payment is made in full by cash, eftpos or credit card. It is subject to verification and does not apply to ebay, american or overseas sites (come on guys), global sounds, grey importers, bulk buy discounts or site licence prices apply or to prices of other sellers that are available for less than one week. Price Match does not apply if original price retailers are out of stock or if Musos Corner is out of stock of the product in question. That said, we will always endeavour to pass on the very best price we possibly can.
Payments
Pricing Policy
All of our prices are in Australian dollars (AUD) and include Australian GST (Goods and Services Tax). All transactions are processed in AUD.
In this industry our suppliers can often change their prices quickly and without notice. Sometimes the website or the store will not accurately represent these price changes and sometimes there may be genuine pricing errors due to either technical or human error. In these instances we are not bound by the information offered in error and may not be able to honor the incorrect price, but we will explain the error to you and do everything we can to pass on the best possible deal.
Do you guys Lay-by?
We certainly do in store, for an online lay-by each one is selected upon its own merrits with a 50% Deposit if approved. For in store Lay-bys: 20% Deposit, followed by weekly or fortnightly payments for 8 weeks. If cancelled, a 20% of RRP Fee will incurr.
Freight
How do I know if my item ships Free?
Many products we stock have free shipping to certain locations.
Please put in your address into the freight calculator and if there is free freight there will be no charge for delivery. Items on ZipMoney, ZipPay, or Studio19 Finance may not be eligable for free delivery. We will contact you if this is the case.
Free Postage Details
Some items such as certain pedals and stomp boxes, accessories and effects may have free postage. This will go via the cheapest method. Courier/Express/Insurance/Registered Post would be extra. Please contact us.
Express Post
We can Express Post/Courier your items if necessary but additional charges may apply. Orders generally leave at 2:00pm daily so if you need an item ASAP, make sure it is ordered by 1pm (please call 1300 687 672) to ensure there is stock of the item and to get an estimated time of arrival. Express post is to capital / major cities only (for next day service). This service is for items under 5KG only!

How can I track my order?
Check your email and you will have been sent a tracking number, input the number into either Fastway Couriers, Startrack or Australia Post's Track & Trace engine. If you have any problems, please call us and we will call the couriers on your behalf.

Do you take international orders?
Sorry, we do not take international orders, we only sell and ship around Mainland Australia & Tasmania. For remote & Island locations please contact us.
How much is shipping?
To work out a shipping cost, please go through the cart and our system will work out a freight price to your area.
If you think there may be an error, or want to clarify the price, you are welcome to contact us and we will work out the best shipping price for you.
There may be some exceptions for heavy or large items (over 25kg), remote locations or some regional areas. We will contact you if this problem arises prior to shipping the goods.

Do you offer freight insurance?
We certainly do, and highly recommend it as Australia is a big country. Insurance / Shipping protection is available and is only 1.5% of the value of the goods.

Can I pick my goods up in store?
Of course! Unlike some stores, we do not charge for you to pick up in store. We are open 7 days for your convenience, but please give us a date and time of pick up so we can make sure your goods are ready. Orders that are left for over 1 week and not picked up will be returned to stock, unless other arrangements have been made. Valid ID will be required for picking up goods that have been paid for online or over the phone.
What if I am not home for the delivery?
IF you are not home, the driver will leave a card in your mail box so you can pick-up from the local depot/post office or arrange a re-delivery.
We have found it to be much quicker & easier to have all items sent to a business address where someone will be present.

Can I ask for the courier to leave the goods at my door?
Whilst it Is possible, we highly recommend that you do not do it. All freight warranty & insurance will be void. Only do so at your own risk, if someone steals it, Musos Corner & The freight company will not be held accountable.
If you will not be able to take the delivery, it might be worth asking a friend or neighbour to take delivery of it for you.

What if it appears my goods have been freight damaged?
Please check all items before signing for them! This is very important. Do not sign for an item that appears damaged, to sign for them means "Signed for in good working order" and subsequently is out of the couriers hands, and voids insurance. If this was not possible, there can be a 24 Hour window to try and claim insurance, please contact us & the courier immediately. This only applies to orders that have paid for Insurance & are sent via courier.

Can the courier or delivery person call me prior to delivery?
Unfortunately as often as we request this, we get denied as many times. No courier or Australia post worker will call you prior to delivery despite any bribes we may try and offer.
If you select courier we will send you a tracking number which you can use to find out an estimated time of arrival for your goods, or alternatively have it sent to a business address.

Can I have my goods delivered on the weekend or after hours?
Unfortunately this is not possible at the current point in time, however you are welcome to pickup in store late night Thursday or on weekends from our Newcastle store. Please contact us to set a pickup time.
I've been emailed a tracking number, how do I track it?
The number should look like Fastway FA0000001 or Startrack YTP0000 or Aus Post 111111, Simply go to the website of the company it was sent with (Fastway,Startrack Express, Australia Post) and trace it there.
Do i need to set up my product?
All guitars some fully set up ready to play (after a quick tuning). Banjos will need to be set up after delivery as they cannot be shipped set up unless they are bought with a case. Some products like piano stands require some basic assembly as they are flat packed for shipping.