Korg SV-2 88 Key Stage Vintage Piano
Availability
2 Available in Newcastle Store
Warehouse Stock: LOW
The Evolution of a Modern Classic
Never before has a single instrument captured the signature sound, the unique performance experience, and the aesthetic satisfaction of so many definitive keyboards as the KORG SV-2 Stage Vintage.

Ten years ago, KORG launched the Stage Vintage line to wild acclaim. The combination of an intuitive live panel, the premier keybed, the ultimate realization of coveted vintage sounds, the clarity of world-class pianos, the warmth and character of period-proper effects, and the distinctively smooth shape has inspired musicians from around the globe for over a decade. Available with either 88 keys or 73 keys, these SV-2 models are the latest additions to the Stage Vintage series, featuring more of everything that makes an SV great. More Sounds. More Memory. More Polyphony. More Presets. More Control. It is quite literally everything one could want in a performance stage piano … and more. Plus, be sure to check out the SV-2S models, equipped with an internal K-ARRAY speaker system.
More. More. More.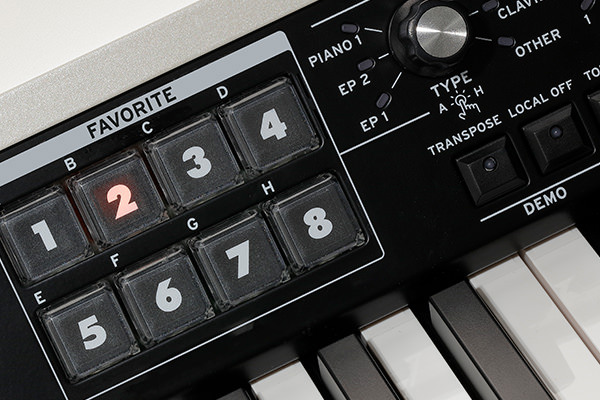 The SV-2 contains over ten times the sample data available in previous SV models, providing ample memory for many all-new piano and keyboard sounds. The SV-2 is home to 72 compelling sounds, and provides 64 memory locations to store edited Favorites for instant access during performance. Using the SV-2 Editor software, users are now free to create their own split and layered programs and save them to one of the Favorites locations. In fact, a single favorite can access up to three timbres at once – A piano/bass split with a layer of strings, for example. While user splits must be created using the SV-2 Editor, the split point on the keyboard can be adjusted directly from the front panel. Plus, polyphony of the SV-2 now stands at 128 voices, allowing more effective layering of sounds or sustained chording.


Faithful Sound Reproduction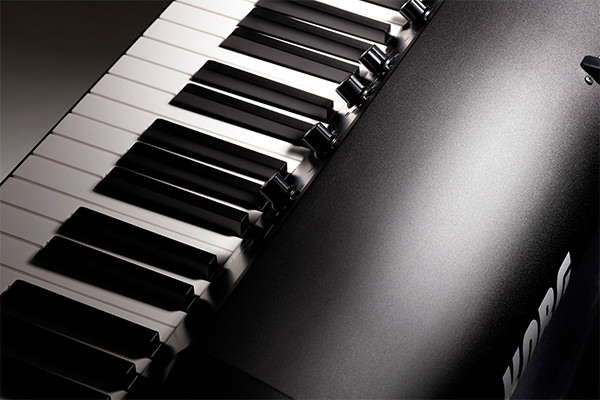 The SV-2 represents the pinnacle of audio sampling techniques and careful instrument preparation, delivering the most exacting and accurate rendition of so many keyboard classics. Using only the best-maintained instruments and the latest multi-mic'ing methods, every sound has been captured as precisely as possible. The slap of the tine, the release of the hammer, the click of the contacts—every element is amazingly preserved in the RX Layer; mix in as much or as little of these authentic artifacts as you need. In addition, the full dynamic range of each instrument has been faithfully preserved, recreating all of the timbral and volume changes generated from a ppp (pianississimo) touch to an fff (fortississimo) strike – and everything in between. This detailed sampling regime creates a three-dimensional sense of presence, allowing the sound to fully occupy its place in the mix or in the performance space.
Coveted Classics
Experience a treasure trove of classic electro-mechanical, transistorized, tape-driven, analog, and digital keyboard instruments, all reproduced with stunning realism. These sounds defined decades of popular music, and are now once again in demand. The SV-2 places all of these sought-after sounds right at the fingertips – in perfect tune and in impeccable playing condition – no maintenance required. It's all here. Electric pianos now include nearly all the American tine and reed models, a Japanese electric grand, as well as a rare German electric piano. And then there all those clavis, created using a range of settings. Prefer electronic pianos? There are analog, digital, VPM, FM, and sampled versions – including the ever-popular KORG M1 piano. Looking for Organs? Select from tone-wheel classics; VOX combo, Italian transistor, or American tube organs; and now church and cathedral organs. Need some strings? Choose from a 70s-era analog string machine, prog-era tape strings, or a warm orchestral section. Plus, the SV-2 contains mallets, brass and choir sounds, guitar and bass sounds, even solo and pad synths that are ideal for layering or creating convenient splits.
Plenty of Pianos
The SV-2 remains, at heart, a stage piano. At the touch of a button, you can summon the most outstanding grand piano sounds from around the world – including exemplary pianos from the leading German, Italian, Austrian, and Japanese instrument makers. For a more intimate setting, choose one of the authentic Japanese or German upright pianos. Also included are a real honky-tonk piano and a genuine "tack" piano. Last but not least, the SV-2 contains two gorgeous harpsichords, one French and one Italian. Featured alone, layered with another sound, or split across the keyboard, these outstanding piano sounds deliver a strong foundation while delivering additional performance options.
Seize Control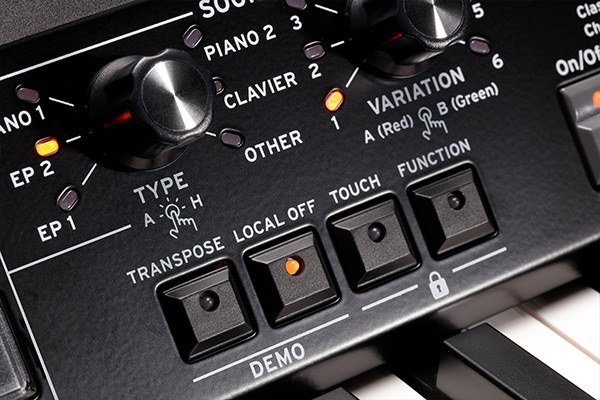 The SV-2 invites you to take command of your sound. There is no LCD screen, no menus to dive through. Instantly inviting and familiar, the front panel is always live, so go ahead – grab a knob, rotate it, tweak it, and experiment. Change your mind? Pressing in on the knob quickly restores it to the programmed value. Switches with LED indicators show which effects are active, transposition, and more. Sounds are selected through a pair of rotary switches. Eight illuminated buttons in the center of the panel can quickly recall any of 64 Favorite presets, each containing your own customized sounds and settings. Best of all, the SV-2 now offers a Panel Lock function that prevents the accidental switching of sounds if the Favorites buttons are inadvertently touched while performing – and also prevents curious fingers from switching settings between sets. More detailed and convenient control is offered via the free SV-2 Editor software.
Agility and Expression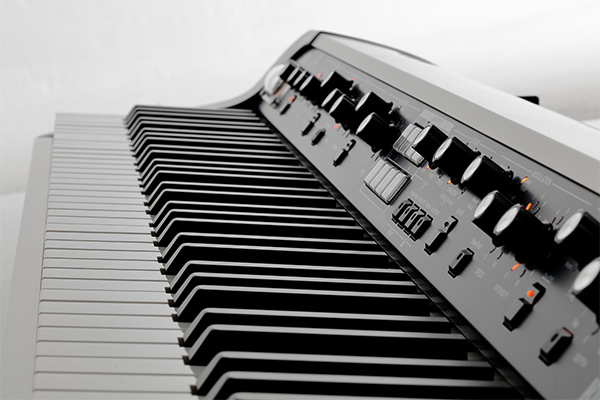 All SV-2 Stage Vintage instruments share the finest KORG RH3 graded-hammer action keybed. As on a grand piano, the weighting of the keys is graduated across the keyboard; heavier in the lower registers and becoming lighter in the upper registers. This RH3 keybed is remarkably sensitive to the nuances of every performance, accurately delivering every expressive element. Selecting one of the eight distinct velocity curves allow the keyboard response to match any playing technique of performance style. Authentic to the end, the SV-2 offers eight tuning schemes including equal, grand piano stretch, electric piano stretch, electric grand, upright stretch, detuned and two user-definable types (configurable using the free SV-2 Editor). The overall tuning, or concert pitch, of the SV-2 can be adjusted to match another instrument or a previously recorded track. Needless to say, the SV-2 can be transposed into any key.
Making it Real
Adding the right effects provides layers of sonic splendor and adds a crowning level of authority to any vintage keyboard sound. The SV-2 features six independent stages of studio-grade signal processing, highlighted by the KORG Valve Reactor. This Valve Reactor circuit delivers the added warmth or snarl that only a true 12AX7A vacuum tube can provide. As with the sounds themselves, all of the effect models are faithful to the originals and are designed to match the performance, limitations, and behavior of the chosen effect. Effect stages include:

- 3-BAND EQUALIZER (Bass, Middle and Treble)
- PRE FX (Red Compressor, Treble Boost, U-Vibe, Vibrato, Tremolo, VOX Wah)
- AMP MODEL (Clean, Twin, Tweed, AC30, Boutique, Organ, plus several types of Cabinet Simulators and Noise Reduction)
- MODULATION FX (Classic Chorus, Black Chorus, Orange Phaser, Small Phaser, MX Flanger, Rotary)
- REVERB/DELAY (Room, Plate, Hall, Spring, Tape Echo and Stereo Delay)
- TOTAL FX (Stereo Mastering Limiter, Stereo Limiter)

Easy to use and simple to control, these period-accurate effects and amp models add authenticity to your vintage and modern sonic pursuits.
Modern Connections
The SV-2 is host to all the audio jacks, data connections, and pedal ports that today's professional stage pianos require. In addition to the Left and Right 1/4" audio outputs, there are Left and Right XLR outputs for connecting directly to a studio console or onstage snake, without requiring any direct boxes or impedance matching transformers. The headphone output allows for onstage monitoring or for rehearsing in private. Din-style MIDI IN and MIDI Out jacks connect easily to other MIDI instruments and music equipment; the USB port provides a data link between the SV-2 and a computer.
There are 3 pedal connections: Damper, Pedal 1, and Pedal 2. The DS-2H Damper pedal is included and responds to half-pedaling for an authentic piano response. Pedal 1 is designed for a switch type of pedal and can operate as a piano Sostenuto pedal, or as a Fast/Slow switch when the Rotary Pro effect is on. Pedal 2 can accept either a sweep-type pedal – great for authentic Wah effects and accurate organ volume control – or an additional switch pedal, providing the piano purist with access to all three piano pedal functions by adding the Una Chorda (soft) function.
Free SV-2 Editor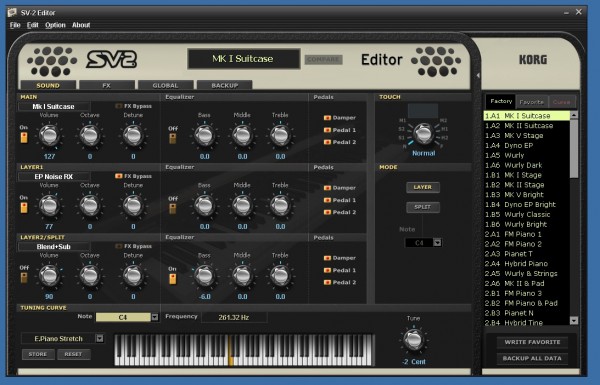 Despite the wealth of on-board SV-2 features, the SV-2 Editor provides a convenient and detailed pathway to editing, organizing, cataloging, and storing edited sounds as Favorites for the SV-2. In addition, the SV-2 Editor offers access to hundreds of other sounds that are not immediately available from the control panel. The SV-2 Editor also makes it easy to set up customized split and/or layered Favorites and save them into memory. Additional SV-2 libraries released by KORG can be loaded using the SV-2 Editor to renew your personal sound catalog. Also, you are free to exchange sounds with other fellow users. Download from here
Specifications
Keyboard
Keyboard: 88 Keys (A0 to C8), Velocity-sensitive KORG RH3 (Real Weight Hammer Action 3)
Touch selection: Eight curves
Tuning: Master Transpose, Master Tune, tuning curves
Sounds
Sound generation: EDS-X (Enhanced Definition Synthesis - eXpanded)
Maximum Polyphony: 128 notes
Multi Sounds: Layer, Split
Factory Sounds: 72 (6 Basic sounds x 2 sets, 6 variations)
EP1 (Vintage): MK I Suitcase, MK I Stage, MK II Suitcase, MK II Stage, MK V Stage, MK V Bright, Dyno EP, Dyno EP Bright, Wurly, Wurly Classic, Wurly Dark, Wurly Bright
EP2 (Various): FM Piano 1, FM Piano 2, FM Piano 3, FM Piano & Pad, Pianet T, Pianet N, Hybrid Piano, Hybrid Tine, Wurly & Strings, FM & Strings, MK II & Pad, FM & Pad
Piano 1 (Acoustic): German Grand, German Classic, Italian Grand, Italian Bright, Japanese Grand, Japanese Bright, Austrian Grand, Austrian Classic, Japanese Upright, Upright Bright, German Upright, Rock Piano
Piano 2 (Various): Electric Grand, German Mono, KORG M1 Piano, KORG SG-1D, Digital Piano, Electra Piano, Tack Piano, Honky-Tonk, Piano & Strings, Piano & Pad, Piano & Synth, Piano & Brass
Clavier: Clav AC, Clav AD, Clav BC, Clav BD, Harpsichord, Harpsichord Oct, Perc. Organ, Rock Organ, Jazz Organ, VOX Organ, Church Organ, Pipe Organ
Other: Full Strings, Classic Strings, Tape Strings, Strings & Voices, Warm Pad, Bright Pad, Orchestra, Pizzicato & Glock, Brass, Synth Brass, Pad/Mini Lead, Pad/SynthLead
Favourite sounds: 64 (8 banks x 8 variations) for saving of customized settings
Effects
Structure: 6 effects (5 effects + 1 total effect)
Equalizer: Bass, Mid, Treble
Pre FX: Red Comp, Treble Boost, U-Vibe, Vibrato, Tremolo, VOX Wah (Auto or Pedal control)
Amplifier models: Clean, Twin, Tweed, AC30, Boutique, Organ Amp + Cabinet Models, Valve Reactor Technology - 12AX7 (ECC83) valve
Modulation: Classic Chorus, Black Chorus, Orange Phaser, Small Phaser, MX Flanger, Rotary (Slow/Fast control)
Ambient: Room, Plate, Hall, Spring, Tape Echo, Stereo Delay (Tap tempo)
Total FX (only editable with SV-2 Editor): Stereo Mastering Limiter, Stereo Limiter
Panel Controls
Sound Select: TYPE knob, VARIATION knob, FAVOURITES 1-8 switches
Favourite Sound select: 1-8 switches, SOUND TYPE knob
Effect Control: Equalizer: On/Off switch, BASS knob, MID knob, TREBLE knob
Pre FX: On/Off switch, TYPE knob, SPEED knob, INTENSITY knob, AUTO/PEDAL switch (available when the TYPE = Vox Wah)
Amplifier: On/Off switch, TYPE knob, DRIVE knob
Modulation: On/Off switch, TYPE knob, SPEED knob, INTENSITY knob, Slow/Fast switch (available when the TYPE = Rotary)
Ambient: On/Off switch, TYPE knob, DEPTH knob, Tap (available when TYPE = Stereo Delay)
Volume: Master Volume
Switches: Transpose, Local Off, Touch, Function
Demo Songs: 72 songs (one song for each preset sound)
Input/Output Connections
Audio Output: L, R connector (XLR balanced), L/MONO jack, R/MONO jack (6.3 mm [1/4"] unbalanced)
Headphone: Headphone jack (6.3 mm [1/4"] stereo jack)
Audio Input: L/MONO jack, R/MONO jack (6.3 mm [1/4"] unbalanced)
MIDI: IN, OUT
USB: USB: 2.0 Type B connector (doubles the MIDI Interface)
Damper Pedal: KORG DS-2H (included), DS-1H (sold separately)
Pedal 1: PS-1 foot switch, PS-3 foot switch (sold separately)
Pedal 2: Volume/Expression, XVP-20, EXP-2, PS-1 foot switch, PS-3 foot switch (sold separately)
Main Specifications
Power Supply: Internal switching adapter, AC 100-240 V, 50/60 Hz
Power Consumption: 16 W
Dimensions (W x D x H, excluding music stand): 1356 mm x 347 mm x 157 mm/53.39" x 13.66" x 6.18"
Weight (exclusing music stand): 20.35 kg/44.86 lbs
Others
Included Items: Power cable, Music stand, DS-2H damper pedal, Quick Guide.
Accessories (sold separately):

Stand: ST-SV1 piano stand
Carrying bag: CB-SV1 88
Damper pedal: DS-1H
EXP/VOL pedal: XVP-20
Foot controller: EXP-2
Pedal switch: PS-3, PS-1
| | |
| --- | --- |
| Series | No |
| SKU | KO-SV288 |
| warehouse_eta | No |
| Colour | Black |
| Warranty | Yes |
Korg at Musos Corner
Musos Corner is proud to be an authorised retailer and service agent for Korg audio equipment.
Korg was founded as Keio Electronic Laboratories in Japan in 1962 and its first product was an electro mechanical rhythm machine the Donca Matic DA-20 in 1963.
The name Donca Matic came from the sound the machine made.
Korg began to focus on organs with relative success until in 1973 the company shifted into the niche synthesizer market with the release of the Mini Korg which is still in production today.
Korg is known for its innovation and is credited with developing the transpose function, the addition of effects on synthesisers as well as the sample + synthesis sound.
Korg's M1 workstation was released in 1988 and became the biggest selling synthesizer at that period.
The Korg Prophecy, Triton and Kronos models have also had a big impact on the industry as the company continued to produce revolutionary products with original features such as touch screens.
Musos Corner stocks a wide range of Korg products including the popular Volca series, synthesisers, workstations, instrument tuners, effects and stage pianos.
Musos Corner highly recommends all Korg products and if we don't have your dream Korg product in stock please contact us at Musos Corner today.
Important Notice
Please allow a few extra days for delivery as our couriers & Australia Post are experiencing higher than normal parcel volumes due to COVID 19
Ordering
Is this product in stock?
We try our best to have everything in stock, but sometimes items sell out faster than we can update the website, as this is a manual process. If this is the case we will call or email you and let you know if your order cannot be fulfilled, and what your options are as soon as possible. We have multiple warehouses around the country so the "in stock" and "out of stock" is an indication of if the item is able to be shipped from one of them, our store, or one of our distributors. Most of the time there is no difference in turn around depending where it is shipped from but if there are any delays we will contact you immediately. We do also ask if you plan on picking up an item, please contact us so we make sure it is in our store ready for you.
I want a certain product but I don't see it on your site, Why don't you have it!!!?
We have a HUGE store here in Newcastle (which we would love to see you in) and not every product we stock is online & vice versa, but if you don't see what you are after, give us a call or email and we will chase it down for you!
Is everything on your website in stock?
We try our best to have everything in stock, but sometimes items sell out faster than we can update the website, as this is a manual process. If this is the case we will call or email you and let you know if your order cannot be fulfilled, and what your options are as soon as possible.

Do all the guitars come set up & with strings?
They sure do! All the guitars are set up at the factory & often once in the country as well! Every guitar we sell is ready to play (after a quick tune of course)
Price Match
Do you price match?
Yes we do! We will do our very best to match & beat any genuine Australian quote!
Just email us a link to the cheaper product and we will match or beat it for you (Prices valid for 48 hours) The Musos Corner Price Match option only applies when comparing identical products in the same condition, where payment is made in full by cash, eftpos or credit card. It is subject to verification and does not apply to ebay, american or overseas sites (come on guys), global sounds, grey importers, bulk buy discounts or site licence prices apply or to prices of other sellers that are available for less than one week. Price Match does not apply if original price retailers are out of stock or if Musos Corner is out of stock of the product in question. That said, we will always endeavour to pass on the very best price we possibly can.
Payments
Pricing Policy
All of our prices are in Australian dollars (AUD) and include Australian GST (Goods and Services Tax). All transactions are processed in AUD.
In this industry our suppliers can often change their prices quickly and without notice. Sometimes the website or the store will not accurately represent these price changes and sometimes there may be genuine pricing errors due to either technical or human error. In these instances we are not bound by the information offered in error and may not be able to honor the incorrect price, but we will explain the error to you and do everything we can to pass on the best possible deal.
Do you guys Lay-by?
We certainly do in store, for an online lay-by each one is selected upon its own merrits with a 50% Deposit if approved. For in store Lay-bys: 20% Deposit, followed by weekly or fortnightly payments for 8 weeks. If cancelled, a 20% of RRP Fee will incurr.
Freight
How do I know if my item ships Free?
Many products we stock have free shipping to certain locations.
Please put in your address into the freight calculator and if there is no delivery charge your order may be eligible for free delivery. General exceptions include anything over 20kg or 105cm and areas as deemed remote by our delivery partners, including all of NT & WA.
Some Items on ZipMoney, ZipPay, or Studio19 Finance may not be eligable for free delivery. We will contact you if this is the case.
Some large/heavy items (over 20kg) , or items deemed not able to be delivered by our standard courier, Australia Post, may have an extra shipping charge.
Free Postage Details
Some items such as certain pedals and stomp boxes, accessories and effects may have free postage. This will go via the cheapest method. Courier/Express/Insurance/Registered Post would be extra. Please contact us for more information or check the "Free Freight" tab at the top of our website.
Express Post
Sometimes we can Express Post/Courier your items if necessary but additional charges may apply. Orders generally leave at 2:00pm daily so if you need an item ASAP, make sure it is ordered by 1pm (please call 1300 687 672) to ensure there is stock of the item and to get an estimated time of arrival. Express post is to capital / major cities only (for next day service). This service is for small items under 3KG only!

How can I track my order?
Check your email and you will have been sent a tracking number, input the number into either Fastway Couriers, Startrack or Australia Post's Track & Trace engine. If you have any problems, please call us and we will call the couriers on your behalf.

Do you take international orders?
Sorry, we do not take international orders, we only sell and ship around Mainland Australia & Tasmania. For remote & Island locations please contact us.
How much is shipping?
To work out a shipping cost, please go through the cart and our system will work out a freight price to your area.
If you think there may be an error, or want to clarify the price, you are welcome to contact us and we will work out the best shipping price for you.
There may be some exceptions for heavy or large items (over 25kg), remote locations or some regional areas. We will contact you if this problem arises prior to shipping the goods.

Do you offer freight insurance?
We certainly do, and highly recommend it as Australia is a big country. Insurance / Shipping protection is available and is only 1.5% of the value of the goods.

Can I pick my goods up in store?
Of course! Unlike some stores, we do not charge for you to pick up in store. We are open 7 days for your convenience, but please give us a date and time of pick up so we can make sure your goods are ready. Orders that are left for over 1 week and not picked up will be returned to stock, unless other arrangements have been made. Valid ID will be required for picking up goods that have been paid for online or over the phone.
What if I am not home for the delivery?
IF you are not home, the driver will leave a card in your mail box so you can pick-up from the local depot/post office or arrange a re-delivery.
We have found it to be much quicker & easier to have all items sent to a business address where someone will be present.

Can I ask for the courier to leave the goods at my door?
Whilst it Is possible, we highly recommend that you do not do it. All freight warranty & insurance will be void. Only do so at your own risk, if someone steals it, Musos Corner & The freight company will not be held accountable.
If you will not be able to take the delivery, it might be worth asking a friend or neighbour to take delivery of it for you.

What if it appears my goods have been freight damaged?
Please check all items before signing for them! This is very important. Do not sign for an item that appears damaged, to sign for them means "Signed for in good working order" and subsequently is out of the couriers hands, and voids insurance. If this was not possible, there can be a 24 Hour window to try and claim insurance, please contact us & the courier immediately. This only applies to orders that have paid for Insurance & are sent via courier.

Can the courier or delivery person call me prior to delivery?
Unfortunately as often as we request this, we get denied as many times. No courier or Australia post worker will call you prior to delivery despite any bribes we may try and offer.
If you select courier we will send you a tracking number which you can use to find out an estimated time of arrival for your goods, or alternatively have it sent to a business address.

Can I have my goods delivered on the weekend or after hours?
Unfortunately this is not possible at the current point in time, however you are welcome to pickup in store late night Thursday or on weekends from our Newcastle store. Please contact us to set a pickup time.
Send to a PO BOX?
We cannot ship guitars to a PO BOX under any circumstances. Australia Post will not accept deliveries over 105cm LCM, we cannot change their policy.
Products
Do i need to set up my product?
All guitars come fully set up ready to play (after a quick tuning). Banjos will need to be set up after delivery as they cannot be shipped set up unless they are bought with a case. Some products like piano stands require some basic assembly as they are flat packed for shipping. Digitial pianos and clavinovas may require some simple assembly.
Are all products brand new?
Yes! Everything we sell, unless clearly specified, is considered brand new with full warranty. Some items, especially guitars will have been taken out of their boxes for inspection, demonstration or quality assurance. This in no way effects your warranty supplied to you by Musos Corner or Australian consumer law.
Are the items individually photographed?
All images are for illustration purposes unless otherwise specified. While we wish we could take photos of every exact item, this is not always possible and we use the pictures supplied by either the a) Australian Supplier or b) Manufacturer.
If you require a specialty photo of your instrument prior to purchase, just contact us to see if this is available.
Does my item come with Australian warranty
All items we sell come with Australian Warranty, please read our returns policy fo rmore information. Some manufactuers provide aditional warranty over the 12 months once registering the product with them. This warranty is between you and the manufactuer, but we will be happy to help should any is needed.
Product Changes
All product descriptions and specifications listed online are subject to change without notice and all images are for illustration purpose only.