Panorama P4 and P6 are incredible keyboard controller instruments with the most intuitive workflow, you have ever seen.
Spectacular and deep integration with Bitwig Studio, Cubase, Logic Pro, MainStage, Reaper, Reason and Studio One puts the spotlight on performance and creativity. Keyboard and pads are dynamic, sensitive and balanced carefully with a solid feel that allows for complete expression. All this, combined with 93 real-time controls available at any one time, makes Panorama the definitive keyboard controller for Bitwig Studio, Cubase, Logic Pro, Reason and Studio One.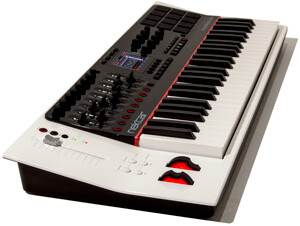 KEYBOARD BALANCED TO PERFECTION
Panorama's keyboard action uses weights to offset the otherwise increasing tension you would experience from the spring. This means the down movement
is as clean as possible and not heavy or fatiguing to play. We keep the down weight required within the heavy end of common standards for acoustic pianos. In addition, the dynamic range is much wider than what you experience on most controller keyboards allowing better control of both low and high velocity values. 5 velocity curves gives you choice just in case your playing style requires a different feel. Monophonic aftertouch, pitch bend and modulation wheels, plus foot switch and expression pedal jacks set you up for performance.
THE DISPLAY SAYS IT ALL
A crystal clear 3.5″ color TFT display delivers the information you really need, for each mode or menu. Regardless of whether you are operating Reason or programming MIDI assignments in Internal mode, the display provides detailed information that makes your workflow fluent and fast. Panorama takes the hard work out of using a controller and makes operations that seem complicated and non-transparent on other products, straight-forward and simple.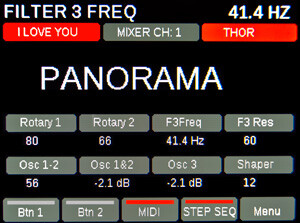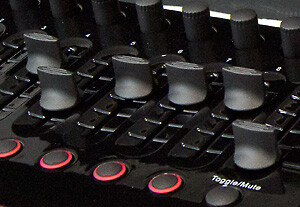 MORE CONTROLS THAN EVER BEFORE
An unrivaled amount of assignable controls makes Panorama the most comprehensive and fully featured MIDI controller keyboard around. 16 encoders, 9 45mm faders, 1 100mm motorized ALPS fader, 10 LED buttons, 28 buttons, 12 pads each with strike and pressure component, foot switch jack, expression pedal jack, keyboard after touch, pitch bend and modulation wheels gives you immediate control of up to 93 parameters at any one time. You can store settings in 20 presets with individually savable and loadable keyboard-, pad- and F-keys-maps. We could argue that it gives you access to over 1500 assigned controls, but that would be spinning it too far.
MIDI CONTROL – A GAME OF MANY OPTIONS!
Setting up presets or F-keys maps is easy on Panorama. The Control Edit menu enables you to quickly select a control and assign the MIDI command you want in real-time. For each control, values can be scaled, reverse and assigned specific or global MIDI channels. Here is a chart showing the programming options available for each type of control: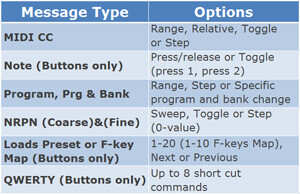 PRO-CONSOLE CONTROL WITHIN REACH
The motorized 100mm touch-sensitive ALPS fader gives you pro-console mixer channel control when operated with Bitwig, Cubase, Logic, Nuendo, Reaper or Reason. Watch the fader move when you change tracks and just move it to change volume.
Two LED buttons control Solo and Mute – so no matter what mode you are operating Panorama in, you always have pro-console control within reach.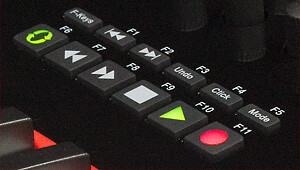 TRANSPORT WHEN YOU NEED IT,
FUNCTION BUTTONS WHEN YOU DON'T
It's hard to go places without transport, so Panorama features an extended 11 button transport bar, positioned right where you need it: Return to L, Forward to R, Undo, Click on/off, Record Mode, Cycle on/off, Back, Forward, Stop, Play and Record. Using the shift button, these also double up as 11 function buttons each assignable to MIDI commands or QWERTY macro's.
SHORTCUT TO SOFTWARE FUNCTIONS*
So QWERTY macro's…… big deal, right? That's right, its a VERY big deal. Your software has a ton of features and functions that can be activated using QWERTY shortcut commands. Assigning a command to a button, so you don't have to be near your computer, makes life a lot easier. Assigning a string of up to 8 commands takes it to another level. With this powerful feature you could for example enter edit mode, zoom in and select a tool with just one button press.
Or create an instrument or effects track and locate a folder containing your presets so you can select them from Panorama, all with one button press and without looking at your computer.
*QWERTY macro's are not available in OS X 10.11 or higher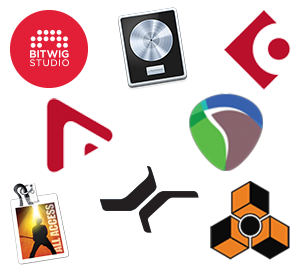 CONTROLLING BITWIG STUDIO, CUBASE, NUENDO, LOGIC PRO, MAINSTAGE, REAPER, REASON AND STUDIO ONE HAS NEVER FELT SO REAL
For Bitwig Studio, Cubase, Nuendo, Logic Pro, Reaper Reason and Studio One users, Panorama is a dream come true. The dedicated communication protocol ties Panorama and your DAW tightly together, so all you have to do is select the mode and menu you want to control. Panorama does the rest.
It is just one button press to switch between controlling the Mixer, Instruments and Transport thanks to Panorama's mode buttons, with the 4th mode, Internal, still providing access to traditional MIDI control.
The integration with Bitwig Studio, Cubase, Nuendo, Logic Pro, MainStage, Reaper, Reason and Studio One is so deep that you can immerse yourself in your music without having to constantly reach for the mouse. Panorama gives you the creative freedom to just focus on your music.
Download the P4/P6 Bitwig user guide Learn more about P4/P6 and Cubase
Learn more about P4/P6 and Logic Learn more about P4/P6 and MainStage
Learn more about P4/P6 and Reason Download the P4/P6 Reaper user guide
YOUR REWIRE SLAVE AND HOST CONTROLLED IN ABSOLUTE REAL-TIME
Reason ReWired to Cubase, Nuendo, Logic Pro or Reaper is a whole new experience with Panorama. Select which DAW you want to control straight from Panorama, in absolute real-time and regardless of what's in focus on your computer. Color coding clearly tells you which environment you are controlling, so you don't get confused as you switch back and forth. And better still, there is no functionality lost when you change control from one DAW to the other. You of course could buy 2 Panorama products to achieve the same result – but with Panorama you don't have to. The choice is yours.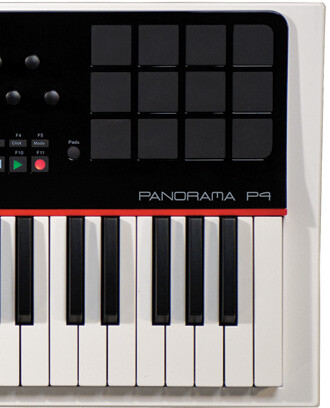 PADS WITH PRESSURE
Playing drums or percussive parts on a keyboard can be a challenge, but luckily on Panorama you don't have to. 12 velocity and pressure-sensitive pads with a choice of 7 velocity curves will inspire you to play in ways you would never do on the keyboard. The pads are unbelievably easy to program using the "Learn Note" function. Press a pad, press a key…it's that easy.
The "Velocity Spread" feature quickly spreads one note across all 12 pads, each with its own fixed velocity, making it easier to create consistent and nuanced dynamics.
The "Scale-Function" assigns each pad to pitches within any of the pre-defined 30+ scales. It's a quick and easy way to completely change pad assignments while freely changing intervals or transposing the whole set on the fly. Great for percussive performances with any keyboard sound as well as percussion.
Reason devices such as ReDrum, Dr. Octo Rex and Kong are of course automatically assigned to pads in Panorama P4's Instrument mode with an additional 4 virtual pads available, when needed.
PORTS & CONNECTIONS
On the back of Panorama you find the connection points you need for foot controls, power and data including:
• USB Micro B for external power supply or additional power for the motorized fader (cable included)
• USB port for power and data connection to your computer
• 5-pin MIDI din output port sending data either directly from the unit or from your DAW (working like a MIDI interface)
• Foot switch jack, assignable (pedal not included)
• Expression pedal jack, assignable (pedal not included)
• On/off switch

Keyboard
• 49 or 61 note semi-weighted, velocity-sensitive
• keyboard w/aftertouch
• 5 velocity curves plus fixed
• Pitch bend & Modulation assignable wheels
• Octave shift buttons
• PB1/2 buttons
• 4 keyboard zones programmable with controller filters and program changes
• 5 keyboard maps store all settings
Preset Controls
• 16 encoders
• 9 45mm faders
• 10 assignable LED buttons
• 11 dedicated transport buttons
• 20 preset locations store all settings including links to keyboard, pad and F-keys maps
Pads
• 12 pads with velocity and pressure sensitivity
• 7 velocity curves
• Note-learn,
• Scale mode with 30+ scales and interval setting
• Velocity spread functions spreads the selected pad assignment over all 12 pads, at different velocity levels
• Transpose and Octave shift in both pad-map and scale mode
• Pads freely assignable in Reason mode
• Load or Save to any of 20 pad maps
F-keys
• 11 assignable Function Keys (accessible using shift and transport keys)
• Load or Save to any of 10 F-Keys maps
• F-Keys assignable even in 3 Reason modes
System Requirements
USB Class compliant, no driver is needed for:
Apple iOS, Apple OSX
Windows XP, or higher
Linux (MIDI driver software required)
Nektar DAW Integration
Mac OS X 10.7 or higher
Windows Vista, 7 & 8 or higher
Additional
• 100 mm ALPS motorized fader*
• 6 dedicated assignable navigation buttons
• ASCII/QWERTY macros assignable to buttons and pads
• 3.5" high-resolution TFT display provides incredible navigation and user visibility
• Nektar DAW Integration
• Presets and setup files for major DAWs and VIs
Connections
• Expression pedal 1/4″ jack input (pedal not included)
• Foot switch (sustain) 1/4″ jack input (pedal not included)
• MIDI output
• USB port for communication with computer
• USB Micro B connector for extra and external power*
*Two USB ports or external USB power supply required to power entire unit. One USB port powers entire unit with the exception of the motorized fader
Weight & Dimensions
Panorama P4
Dimensions: 33 2/8″(L) x 13″(D) 3 6/8″(H)
Weight: 14 Lbs
Panorama P6
Dimensions: 39 5/8″(L) x 13″(D) 3 6/8″(H)
Weight: 17 Lbs
| | |
| --- | --- |
| Series | No |
| SKU | NEKT_PANORAMA P6 |
| warehouse_eta | No |
| Colour | N/A |
| Warranty | Yes |
Product Q&A
No questions yet. Be the first to ask the question!
Important Notice
Please do not use a PO BOX for any deliveries.
We cannot ship guitars to a PO BOX under any circumstances. Australia Post will not accept deliveries over 105cm LCM, we cannot change their policy.
Ordering
Is this product in stock?
We try our best to have everything in stock, but sometimes items sell out faster than we can update the website, as this is a manual process. If this is the case we will call or email you and let you know if your order cannot be fulfilled, and what your options are as soon as possible. We have multiple warehouses around the country so the "in stock" and "out of stock" is an indication of if the item is able to be shipped from one of them, our store, or one of our distributors. Most of the time there is no difference in turn around depending where it is shipped from but if there are any delays we will contact you immediately. We do also ask if you plan on picking up an item, please contact us so we make sure it is in our store ready for you.
I want a certain product but I don't see it on your site, Why don't you have it!!!?
We have a HUGE store here in Newcastle (which we would love to see you in) and not every product we stock is online & vice versa, but if you don't see what you are after, give us a call or email and we will chase it down for you!
Is everything on your website in stock?
We try our best to have everything in stock, but sometimes items sell out faster than we can update the website, as this is a manual process. If this is the case we will call or email you and let you know if your order cannot be fulfilled, and what your options are as soon as possible.

Do all the guitars come set up & with strings?
They sure do! All the guitars are set up at the factory & often once in the country as well! Every guitar we sell is ready to play (after a quick tune of course)
Price Match
Do you price match?
Yes we do! We will do our very best to match & beat any genuine Australian quote!
Just email us a link to the cheaper product and we will match or beat it for you (Prices valid for 48 hours) The Musos Corner Price Match option only applies when comparing identical products in the same condition, where payment is made in full by cash, eftpos or credit card. It is subject to verification and does not apply to ebay, american or overseas sites (come on guys), global sounds, grey importers, bulk buy discounts or site licence prices apply or to prices of other sellers that are available for less than one week. Price Match does not apply if original price retailers are out of stock or if Musos Corner is out of stock of the product in question. That said, we will always endeavour to pass on the very best price we possibly can.
Payments
Pricing Policy
All of our prices are in Australian dollars (AUD) and include Australian GST (Goods and Services Tax). All transactions are processed in AUD.
In this industry our suppliers can often change their prices quickly and without notice. Sometimes the website or the store will not accurately represent these price changes and sometimes there may be genuine pricing errors due to either technical or human error. In these instances we are not bound by the information offered in error and may not be able to honor the incorrect price, but we will explain the error to you and do everything we can to pass on the best possible deal.
Do you guys Lay-by?
We certainly do in store, for an online lay-by each one is selected upon its own merrits with a 50% Deposit if approved. For in store Lay-bys: 20% Deposit, followed by weekly or fortnightly payments for 8 weeks. If cancelled, a 20% of RRP Fee will incurr.
Freight
How do I know if my item ships Free?
Many products we stock have free shipping to certain locations.
Please put in your address into the freight calculator and if there is free freight there will be no charge for delivery. Some Items on ZipMoney, ZipPay, or Studio19 Finance may not be eligable for free delivery. We will contact you if this is the case.
Some large/heavy items (over 20kg) , or items deemed not able to be delivered by our standard courier, fastway, may have an extra shipping charge.
Free Postage Details
Some items such as certain pedals and stomp boxes, accessories and effects may have free postage. This will go via the cheapest method. Courier/Express/Insurance/Registered Post would be extra. Please contact us.
Express Post
Sometimes we can Express Post/Courier your items if necessary but additional charges may apply. Orders generally leave at 2:00pm daily so if you need an item ASAP, make sure it is ordered by 1pm (please call 1300 687 672) to ensure there is stock of the item and to get an estimated time of arrival. Express post is to capital / major cities only (for next day service). This service is for small items under 3KG only!

How can I track my order?
Check your email and you will have been sent a tracking number, input the number into either Fastway Couriers, Startrack or Australia Post's Track & Trace engine. If you have any problems, please call us and we will call the couriers on your behalf.

Do you take international orders?
Sorry, we do not take international orders, we only sell and ship around Mainland Australia & Tasmania. For remote & Island locations please contact us.
How much is shipping?
To work out a shipping cost, please go through the cart and our system will work out a freight price to your area.
If you think there may be an error, or want to clarify the price, you are welcome to contact us and we will work out the best shipping price for you.
There may be some exceptions for heavy or large items (over 25kg), remote locations or some regional areas. We will contact you if this problem arises prior to shipping the goods.

Do you offer freight insurance?
We certainly do, and highly recommend it as Australia is a big country. Insurance / Shipping protection is available and is only 1.5% of the value of the goods.

Can I pick my goods up in store?
Of course! Unlike some stores, we do not charge for you to pick up in store. We are open 7 days for your convenience, but please give us a date and time of pick up so we can make sure your goods are ready. Orders that are left for over 1 week and not picked up will be returned to stock, unless other arrangements have been made. Valid ID will be required for picking up goods that have been paid for online or over the phone.
What if I am not home for the delivery?
IF you are not home, the driver will leave a card in your mail box so you can pick-up from the local depot/post office or arrange a re-delivery.
We have found it to be much quicker & easier to have all items sent to a business address where someone will be present.

Can I ask for the courier to leave the goods at my door?
Whilst it Is possible, we highly recommend that you do not do it. All freight warranty & insurance will be void. Only do so at your own risk, if someone steals it, Musos Corner & The freight company will not be held accountable.
If you will not be able to take the delivery, it might be worth asking a friend or neighbour to take delivery of it for you.

What if it appears my goods have been freight damaged?
Please check all items before signing for them! This is very important. Do not sign for an item that appears damaged, to sign for them means "Signed for in good working order" and subsequently is out of the couriers hands, and voids insurance. If this was not possible, there can be a 24 Hour window to try and claim insurance, please contact us & the courier immediately. This only applies to orders that have paid for Insurance & are sent via courier.

Can the courier or delivery person call me prior to delivery?
Unfortunately as often as we request this, we get denied as many times. No courier or Australia post worker will call you prior to delivery despite any bribes we may try and offer.
If you select courier we will send you a tracking number which you can use to find out an estimated time of arrival for your goods, or alternatively have it sent to a business address.

Can I have my goods delivered on the weekend or after hours?
Unfortunately this is not possible at the current point in time, however you are welcome to pickup in store late night Thursday or on weekends from our Newcastle store. Please contact us to set a pickup time.
Products
Do i need to set up my product?
All guitars come fully set up ready to play (after a quick tuning). Banjos will need to be set up after delivery as they cannot be shipped set up unless they are bought with a case. Some products like piano stands require some basic assembly as they are flat packed for shipping. Digitial pianos and clavinovas may require some simple assembly.
Are all products brand new?
Yes! Everything we sell, unless clearly specified, is considered brand new with full warranty. Some items, especially guitars will have been taken out of their boxes for inspection, demonstration or quality assurance. This in no way effects your warranty supplied to you by Musos Corner or Australian consumer law.
Are the items individually photographed?
All images are for illustration purposes unless otherwise specified. While we wish we could take photos of every exact item, this is not always possible and we use the pictures supplied by either the a) Australian Supplier or b) Manufacturer.
If you requier an specialty photo of your instrument prior to purchase, just contact us to see if this is available.
Does my item come with Australian warranty
All items we sell come with Australian Warranty, please read our returns policy fo rmore information. Some manufactuers provide aditional warranty over the 12 months once registering the product with them. This warranty is between you and the manufactuer, but we will be happy to help should any is needed.
Product Changes
All product descriptions and specifications listed online are subject to change without notice and all images are for illustration purpose only.