V-DRUMS REDEFINED: ULTIMATE EXPRESSION FOR PRO PERFORMANCE AND STUDIO WORK
When your drum technique is evolving fast and your career is taking flight, it's vital to play a kit that matches your talent and ambition. As part of the new flagship V-Drums series, the TD-50K offers unparalleled expression for top-level performance, demanding practice sessions, and pro studio work. Built on the foundation of the new TD-50 module with Prismatic Sound Modeling, this electronic kit provides Roland's most impressive and wide-ranging sounds yet. The advanced processor is complemented by newly developed snare and ride pads, which feature multi-element sensor systems and high-speed digital communication with the module. Meanwhile, deep customization and open-ended connectivity mean it's never been easier to capture your sound. Delivering exceptional playability and maximum expression, the TD-50K is as serious as you are.
lagship electronic drum kit with ultimate expression
TD-50 module with Prismatic Sound Modeling and all-new onboard sounds
Newly developed 14-inch PD-140DS digital snare with a high-resolution multi-sensor system for unparalleled dynamics and accurate positional detection
New 18-inch CY-18DR digital ride provides accurate positional sensing and improved dynamics using an innovative multi-sensor system
Additional cymbal pads include VH-11 V-Hi-Hat, CY-12C crash, and CY-13R crash/ride
KD-120BK Kick Trigger Pedal and three PDX-100 V-Pads for toms
Play your own WAV samples via an SD card
USB 10-channel audio out for multi-track recording through a single USB cable
Stereo XLR master output and eight TRS direct outs provide balanced connections to a PA
Metronome with Quiet Count plus audio recording/playback functions for practice
MDS-50K drum stand
*Kick pedal, Hihat stand and Snare stand not inclulded
Dynamic Prismatic Sound Modeling Brings Your Drumming to Life

Great drummers demand great performance, and at the heart of the Roland TD-50KV, you'll find the TD-50—a powerful new sound module whose original Prismatic Sound Modeling technology means that every element of your playing style is caught and conveyed in thrilling detail. Working alongside the TD-50KV's newly developed snare and ride cymbal pads—which feature our most advanced trigger-sensing technology yet—the TD-50's high-resolution processing gives you the most lifelike, resonant, and expressive sounds you'll hear from an electronic kit.

Customize Your Sound for Live Sessions and Studio Work

A variety of musical scenarios are no problem with the TD-50, which offers a choice of onboard kits to suit every session. This advanced module also supports deep sound customization, including basic adjustment of heads and shells, layering of internal and user samples, and adjustment of overhead mics and ambience. For tailored performance, a compressor and three-band EQ can be controlled for each pad individually, while three independent multi-effect sections let you treat specific drums with 30 effect types such as delay, flanger, saturator, and many others. The two-band multi-compressor and four-band equalizer on the output let you change the overall dynamics and tonal balance, depending on whether you're in the studio or on stage. And with the new Snapshot feature, you can quickly assess and compare any edits to your sounds before making permanent changes.

Play Genuine Snare Techniques with the New 14-inch PD-140DS

Working alongside the TD-50 sound module is the PD-140DS digital snare pad, which brings a new level of expression to your snare work. A brand-new, three-layer mesh head is fitted to a standard size 14-inch shell, providing natural rebound and feel that's instantly familiar to play. And now, thanks to Roland's newly developed multi-element sensor system, your strokes across every area of the pad are more closely detected, and your playing dynamics captured in minute detail. In addition, traditional cross stick technique is automatically detected as the pad senses your hand and adjusts accordingly. With the unmatched response of the PD-140DS, every snare nuance is natural, detailed, and bursting with character.

Explore Traditional Cymbal Techniques with the New CY-18DR Ride

The ride is one of the most expressive elements in any drum kit. Paired with the TD-50 module's advanced engine, the CY-18DR delivers ultra-realistic performance never before achieved with any cymbal pad. With its regular 18-inch size and familiar motion during performance, this new digital cymbal blends seamlessly with standard playing techniques. The high-resolution, multi-sensor system within the cymbal pad provides exceptional response, continuously detecting every stroke from edge to bell. Put the CY-18DR through its paces with techniques from cymbal legato to soft bell strokes and hear the detail for yourself. You can even mute the bow with a finger touch!

Play with Your Own WAV Files and Record Easily to a DAW

As a creative drummer, you'll love the TD-50KV's open-ended connectivity, which lets inspiration flow in both directions. Using the module's SD card slot, it's easy to trigger your own WAV files using any of the TD-50KV's drum pads. You can loop or layer WAV sounds alongside the internal sounds while controlling volume and tone via the TD-50's front panel. When you write a great groove, simply connect the TD-50 module to a computer via USB for multi-track recording direct to your favorite DAW. Up to 10 channels can be recorded separately, then easily edited for tone color and more. There's even a choice of audio sampling formats: 48 kHz, 96 kHz, and the standard 44.1kHz.

Hit the Stage Faster with Balanced Connections to a PA

If you play live every night, the TD-50KV will help avoid the time and effort of a lengthy setup. The TD-50 is the first V-Drums module to feature an XLR stereo master out and eight TRS direct outs, allowing for a balanced connection to a PA system. Assigning a pad to any of the individual outputs is simple, while convenient master/headphones volume controls and group faders balance the output levels instantly. You can also assign the volume to control headphones only, perfect for adjusting the monitor level without affecting the PA signal.

Practice Features to Develop Your Technique

The TD-50KV is the choice for serious drummers, but there's always room for improvement. This new kit doesn't just let your drum technique shine; it actively improves it too, offering onboard features that help you get the best from practice sessions. Whether you lock down your timing with the Quiet Count function or play along to backing tracks via the SD card slot, it's easy to get inspired, even when you're practicing alone.
| | |
| --- | --- |
| Series | No |
| SKU | TD50KS |
| warehouse_eta | No |
| Colour | Black |
| Warranty | Yes |
Product Q&A
No questions yet. Be the first to ask the question!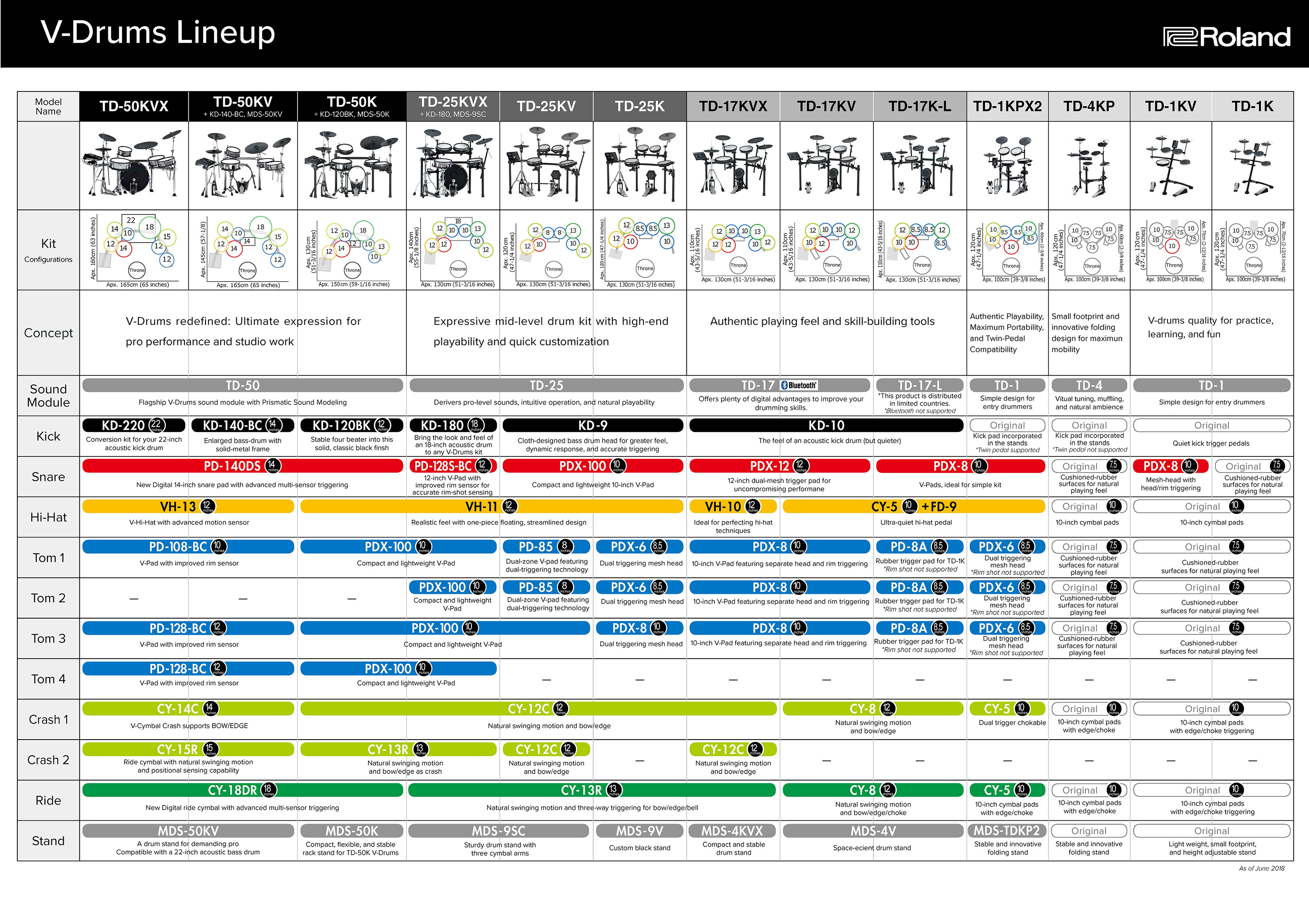 SPECIFICATIONSKit configurationDrum sound module: TD-50 x 1
V-Pad DIGITAL Snare: PD-140DS x 1
V-Pad (Tom1, Tom3, Tom4): PDX-100 x 3
V-Hi-Hat: VH-11 x 1
V-Cymbal Crash: CY-12C x 1
V-Cymbal Ride (Crash): CY-13R x 1
V-Cymbal DIGITAL Ride: CY-18DR x 1
V-Kick: KD-120BK x 1
Drum Stand: MDS-50K x 1Extra trigger input jack5 (TOM 2, AUX 1–AUX 4)AccessoriesSetup guide
Drum stick holderOptions (sold separately)Cymbal mount: MDY series
Pad mount: MDH series
Personal drum monitor: PM-10
V-Drums accessory package: DAP-3X
V-Drums mat: TDM-20

* Kick pedal, snare stand, hi-hat stand, and drum throne are not included.SIZE AND WEIGHT (WITH USING KD-120BK AND MDS-50K, INCLUDING DRUM SOUND MODULE, CYMBALS, AND DRUM THRONE)Width1,500 mm
59-1/16 inchesDepth1,300 mm
51-3/16 inchesHeight1,250 mm
49-1/4 inchesWeight (including KD-120BK and MDS-50K)41.5 kg
91 lbs. 8 oz.
Ordering
Is this product in stock?
We try our best to have everything in stock, but sometimes items sell out faster than we can update the website, as this is a manual process. If this is the case we will call or email you and let you know if your order cannot be fulfilled, and what your options are as soon as possible. We have multiple warehouses around the country so the "in stock" and "out of stock" is an indication of if the item is able to be shipped from one of them, our store, or one of our distributors. Most of the time there is no difference in turn around depending where it is shipped from but if there are any delays we will contact you immediately. We do also ask if you plan on picking up an item, please contact us so we make sure it is in our store ready for you.
I want a certain product but I don't see it on your site, Why don't you have it!!!?
We have a HUGE store here in Newcastle (which we would love to see you in) and not every product we stock is online & vice versa, but if you don't see what you are after, give us a call or email and we will chase it down for you!
Is everything on your website in stock?
We try our best to have everything in stock, but sometimes items sell out faster than we can update the website, as this is a manual process. If this is the case we will call or email you and let you know if your order cannot be fulfilled, and what your options are as soon as possible.

Do all the guitars come set up & with strings?
They sure do! All the guitars are set up at the factory & often once in the country as well! Every guitar we sell is ready to play (after a quick tune of course)
Price Match
Do you price match?
Yes we do! We will do our very best to match & beat any genuine Australian quote!
Just email us a link to the cheaper product and we will match or beat it for you (Prices valid for 48 hours) The Musos Corner Price Match option only applies when comparing identical products in the same condition, where payment is made in full by cash, eftpos or credit card. It is subject to verification and does not apply to ebay, american or overseas sites (come on guys), global sounds, grey importers, bulk buy discounts or site licence prices apply or to prices of other sellers that are available for less than one week. Price Match does not apply if original price retailers are out of stock or if Musos Corner is out of stock of the product in question. That said, we will always endeavour to pass on the very best price we possibly can.
Payments
Pricing Policy
All of our prices are in Australian dollars (AUD) and include Australian GST (Goods and Services Tax). All transactions are processed in AUD.
In this industry our suppliers can often change their prices quickly and without notice. Sometimes the website or the store will not accurately represent these price changes and sometimes there may be genuine pricing errors due to either technical or human error. In these instances we are not bound by the information offered in error and may not be able to honor the incorrect price, but we will explain the error to you and do everything we can to pass on the best possible deal.
Do you guys Lay-by?
We certainly do in store, for an online lay-by each one is selected upon its own merrits with a 50% Deposit if approved. For in store Lay-bys: 20% Deposit, followed by weekly or fortnightly payments for 8 weeks. If cancelled, a 20% of RRP Fee will incurr.
Freight
How do I know if my item ships Free?
Many products we stock have free shipping to certain locations.
Please put in your address into the freight calculator and if there is free freight there will be no charge for delivery. Items on ZipMoney, ZipPay, or Studio19 Finance may not be eligable for free delivery. We will contact you if this is the case.
Free Postage Details
Some items such as certain pedals and stomp boxes, accessories and effects may have free postage. This will go via the cheapest method. Courier/Express/Insurance/Registered Post would be extra. Please contact us.
Express Post
We can Express Post/Courier your items if necessary but additional charges may apply. Orders generally leave at 2:00pm daily so if you need an item ASAP, make sure it is ordered by 1pm (please call 1300 687 672) to ensure there is stock of the item and to get an estimated time of arrival. Express post is to capital / major cities only (for next day service). This service is for items under 5KG only!

How can I track my order?
Check your email and you will have been sent a tracking number, input the number into either Fastway Couriers, Startrack or Australia Post's Track & Trace engine. If you have any problems, please call us and we will call the couriers on your behalf.

Do you take international orders?
Sorry, we do not take international orders, we only sell and ship around Mainland Australia & Tasmania. For remote & Island locations please contact us.
How much is shipping?
To work out a shipping cost, please go through the cart and our system will work out a freight price to your area.
If you think there may be an error, or want to clarify the price, you are welcome to contact us and we will work out the best shipping price for you.
There may be some exceptions for heavy or large items (over 25kg), remote locations or some regional areas. We will contact you if this problem arises prior to shipping the goods.

Do you offer freight insurance?
We certainly do, and highly recommend it as Australia is a big country. Insurance / Shipping protection is available and is only 1.5% of the value of the goods.

Can I pick my goods up in store?
Of course! Unlike some stores, we do not charge for you to pick up in store. We are open 7 days for your convenience, but please give us a date and time of pick up so we can make sure your goods are ready. Orders that are left for over 1 week and not picked up will be returned to stock, unless other arrangements have been made. Valid ID will be required for picking up goods that have been paid for online or over the phone.
What if I am not home for the delivery?
IF you are not home, the driver will leave a card in your mail box so you can pick-up from the local depot/post office or arrange a re-delivery.
We have found it to be much quicker & easier to have all items sent to a business address where someone will be present.

Can I ask for the courier to leave the goods at my door?
Whilst it Is possible, we highly recommend that you do not do it. All freight warranty & insurance will be void. Only do so at your own risk, if someone steals it, Musos Corner & The freight company will not be held accountable.
If you will not be able to take the delivery, it might be worth asking a friend or neighbour to take delivery of it for you.

What if it appears my goods have been freight damaged?
Please check all items before signing for them! This is very important. Do not sign for an item that appears damaged, to sign for them means "Signed for in good working order" and subsequently is out of the couriers hands, and voids insurance. If this was not possible, there can be a 24 Hour window to try and claim insurance, please contact us & the courier immediately. This only applies to orders that have paid for Insurance & are sent via courier.

Can the courier or delivery person call me prior to delivery?
Unfortunately as often as we request this, we get denied as many times. No courier or Australia post worker will call you prior to delivery despite any bribes we may try and offer.
If you select courier we will send you a tracking number which you can use to find out an estimated time of arrival for your goods, or alternatively have it sent to a business address.

Can I have my goods delivered on the weekend or after hours?
Unfortunately this is not possible at the current point in time, however you are welcome to pickup in store late night Thursday or on weekends from our Newcastle store. Please contact us to set a pickup time.
I've been emailed a tracking number, how do I track it?
The number should look like Fastway FA0000001 or Startrack YTP0000 or Aus Post 111111, Simply go to the website of the company it was sent with (Fastway,Startrack Express, Australia Post) and trace it there.
Do i need to set up my product?
All guitars some fully set up ready to play (after a quick tuning). Banjos will need to be set up after delivery as they cannot be shipped set up unless they are bought with a case. Some products like piano stands require some basic assembly as they are flat packed for shipping.