Ultra-portable large-diaphragm digital microphone for iPhone, iPad, iPod touch, Mac, PC and Android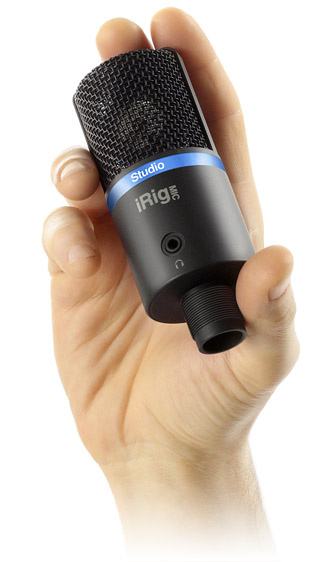 Make professional studio-quality recordings on the go
Introducing iRig Mic Studio, IK Multimedia's ultra-portable large-diaphragm digital condenser microphone for iPhone, iPad, iPod touch, Mac, PC and Android. It packs a 1" diameter condenser capsule into an ultra-compact enclosure that can be used to make professional-quality recordings anywhere. Great for musicians, vocalists, home producers, podcasters, broadcasters, voice-over artists and more, it puts the superior power of a large-diaphragm microphone into the palm of your hand.
Features
Professional studio microphone with large-diaphragm capsule
Ultra-compact size that's easy to carry around
High-quality 1" back electret condenser capsule
24-bit converter with 44.1/48Khz sampling rate
Low-noise, high-definition preamp
Integrated headphone output
Multicolor LED status and level indicator
Onboard gain control and headphone level control
Comes with a full suite of IK apps
Includes portable tripod tabletop stand
Includes Lightning, Micro-USB OTG and USB cables
Available in black or silver version
Big sound, small size
What's remarkable about iRig Mic Studio is that it offers its truly amazing recording quality in an enclosure that's smaller than an iPhone. It features a large 1" diameter back electret condenser capsule, a 24-bit audiophile-grade A/D converter (with 44.1/48 kHz sample rate) and a built-in low-noise high-definition preamp. These, combined with its 133dB SPL rating, allow for optimal recording at any sound pressure level — it can capture everything from the subtle and nuanced dynamics of the human voice to the full-on bombast of an amplified electric guitar, and everything in between.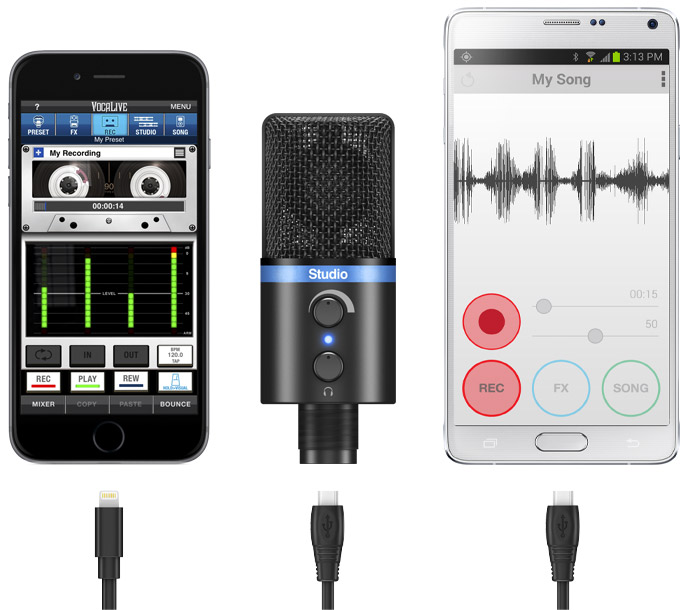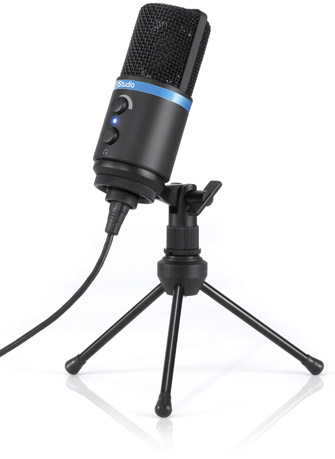 A full suite of controls
To ensure you'll always record at your best, iRig Mic Studio comes with a full set of flexible controls: It has a gain control knob and a multicolor LED level indicator. It also includes a headphone output with its own level control for onboard monitoring directly from iRig Mic Studio itself. And, for better positioning while recording, iRig Mic Studio comes with a sturdy and portable tabletop tripod stand.
All this is to say that iRig Mic Studio is equipped with everything you need to capture the highest quality sound no matter whether you're at home in the studio or recording while on the go.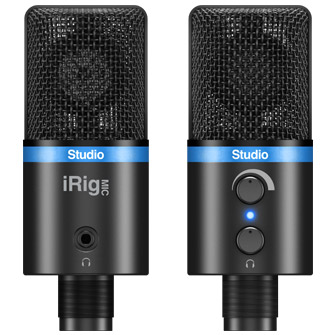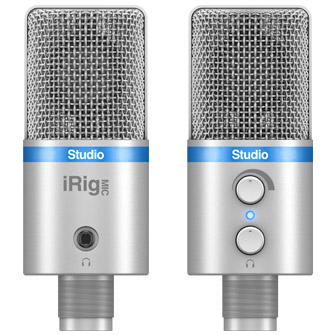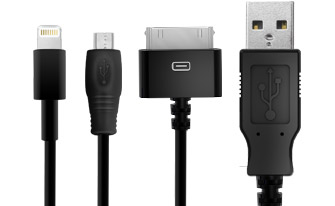 It's all about the connections
iRig Mic Studio is compatible with all your favorite mobile and desktop platforms. It comes with a female micro-USB port and an assortment of cables: Micro-USB to Lightning for iPhone, iPad and iPod touch; micro-USB to micro-USB OTG for Android (requires either an Android 5 or Samsung Professional Audio device); and micro-USB to USB for Mac and PC. A micro-USB to 30-pin cable is available separately for older iPhone, iPad and iPod touch models.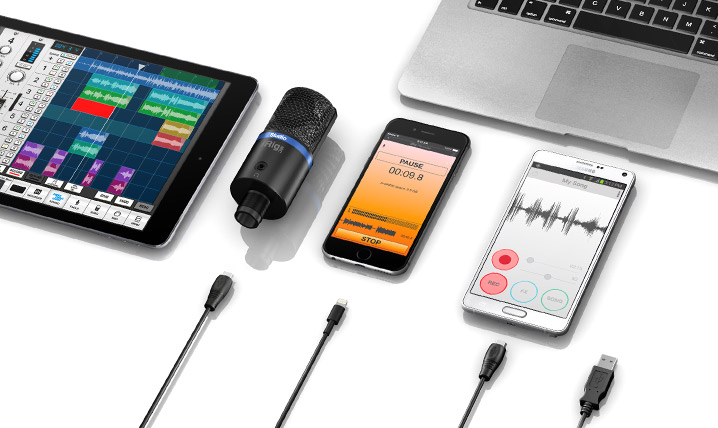 Record with the power of apps
For immediate recording, iRig Mic Studio comes equipped with a powerful suite of vocal apps that match its cross-platform compatibility. iPhone, iPad and iPod touch users will be able to enjoy VocaLive, a powerful effects processor and multi-track recording app that features a selection of 12 professional real-time vocal effects. EZ Voice for iPhone, iPad and iPod touch and EZ Voice for Android are streamlined and easy-to-use sing-along apps that make it easy for vocalists to practice with any song in their music library. iRig Recorder for iPhone, iPad and iPod touch and iRig Recorder for Android are straightforward apps for field recording, podcasting, note taking and more. Mic Room, the microphone modeling app for iPhone and iPad.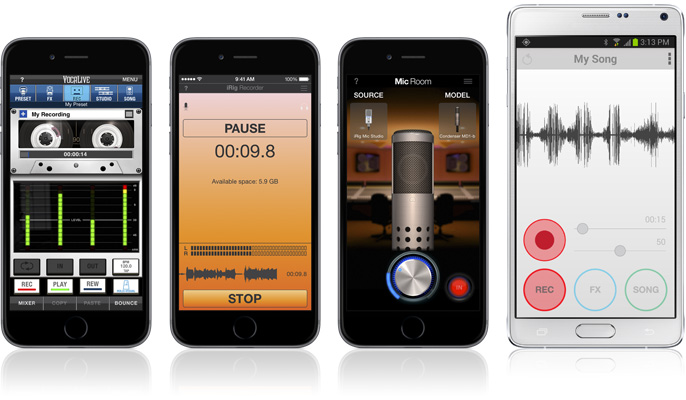 iRig Mic Studio is also fully compatible with a wide variety of third party apps and software, like Cubasis, ProStudio Vocal FX, MultiTrack DAW and more. It's also compatible with Apple's GarageBand and Logic Pro X apps, and iOS Voice Memo.
| | |
| --- | --- |
| Series | No |
| SKU | IKMT_IP-IRIG-MICSTSI |
| warehouse_eta | No |
| Colour | N/A |
| Warranty | Yes |
IK Multimedia at Musos Corner
Musos Corner is proud to be an authorised retailer and service agent for IK Multimedia products.
Founded in Italy in 1997, the company is now a multi-national organisation providing cutting edge audio solutions for everyday musicians.
IK Multimedia specialises in designing and manufacturing apps, software, hardware and accessories for music creation and playback on computers and mobile devices.
IK Multimedia partners with some of the biggest names in music including Fender, Mesa Boogie and Seymour Duncan to develop software with complete authenticity.
Musos Corner highly recommends IK Multimedia products and if we don't already have your dream IK Multimedia product in stock or listed online, contact us at Musos Corner today.
Important Notice
Please allow a few extra days for delivery as our couriers & Australia Post are experiencing higher than normal parcel volumes due to COVID 19
Ordering
Is this product in stock?
We try our best to have everything in stock, but sometimes items sell out faster than we can update the website, as this is a manual process. If this is the case we will call or email you and let you know if your order cannot be fulfilled, and what your options are as soon as possible. We have multiple warehouses around the country so the "in stock" and "out of stock" is an indication of if the item is able to be shipped from one of them, our store, or one of our distributors. Most of the time there is no difference in turn around depending where it is shipped from but if there are any delays we will contact you immediately. We do also ask if you plan on picking up an item, please contact us so we make sure it is in our store ready for you.
I want a certain product but I don't see it on your site, Why don't you have it!!!?
We have a HUGE store here in Newcastle (which we would love to see you in) and not every product we stock is online & vice versa, but if you don't see what you are after, give us a call or email and we will chase it down for you!
Is everything on your website in stock?
We try our best to have everything in stock, but sometimes items sell out faster than we can update the website, as this is a manual process. If this is the case we will call or email you and let you know if your order cannot be fulfilled, and what your options are as soon as possible.

Do all the guitars come set up & with strings?
They sure do! All the guitars are set up at the factory & often once in the country as well! Every guitar we sell is ready to play (after a quick tune of course)
Price Match
Do you price match?
Yes we do! We will do our very best to match & beat any genuine Australian quote!
Just email us a link to the cheaper product and we will match or beat it for you (Prices valid for 48 hours) The Musos Corner Price Match option only applies when comparing identical products in the same condition, where payment is made in full by cash, eftpos or credit card. It is subject to verification and does not apply to ebay, american or overseas sites (come on guys), global sounds, grey importers, bulk buy discounts or site licence prices apply or to prices of other sellers that are available for less than one week. Price Match does not apply if original price retailers are out of stock or if Musos Corner is out of stock of the product in question. That said, we will always endeavour to pass on the very best price we possibly can.
Payments
Pricing Policy
All of our prices are in Australian dollars (AUD) and include Australian GST (Goods and Services Tax). All transactions are processed in AUD.
In this industry our suppliers can often change their prices quickly and without notice. Sometimes the website or the store will not accurately represent these price changes and sometimes there may be genuine pricing errors due to either technical or human error. In these instances we are not bound by the information offered in error and may not be able to honor the incorrect price, but we will explain the error to you and do everything we can to pass on the best possible deal.
Do you guys Lay-by?
We certainly do in store, for an online lay-by each one is selected upon its own merrits with a 50% Deposit if approved. For in store Lay-bys: 20% Deposit, followed by weekly or fortnightly payments for 8 weeks. If cancelled, a 20% of RRP Fee will incurr.
Freight
How do I know if my item ships Free?
Many products we stock have free shipping to certain locations.
Please put in your address into the freight calculator and if there is free freight there will be no charge for delivery. Some Items on ZipMoney, ZipPay, or Studio19 Finance may not be eligable for free delivery. We will contact you if this is the case.
Some large/heavy items (over 20kg) , or items deemed not able to be delivered by our standard courier, fastway, may have an extra shipping charge.
Free Postage Details
Some items such as certain pedals and stomp boxes, accessories and effects may have free postage. This will go via the cheapest method. Courier/Express/Insurance/Registered Post would be extra. Please contact us.
Express Post
Sometimes we can Express Post/Courier your items if necessary but additional charges may apply. Orders generally leave at 2:00pm daily so if you need an item ASAP, make sure it is ordered by 1pm (please call 1300 687 672) to ensure there is stock of the item and to get an estimated time of arrival. Express post is to capital / major cities only (for next day service). This service is for small items under 3KG only!

How can I track my order?
Check your email and you will have been sent a tracking number, input the number into either Fastway Couriers, Startrack or Australia Post's Track & Trace engine. If you have any problems, please call us and we will call the couriers on your behalf.

Do you take international orders?
Sorry, we do not take international orders, we only sell and ship around Mainland Australia & Tasmania. For remote & Island locations please contact us.
How much is shipping?
To work out a shipping cost, please go through the cart and our system will work out a freight price to your area.
If you think there may be an error, or want to clarify the price, you are welcome to contact us and we will work out the best shipping price for you.
There may be some exceptions for heavy or large items (over 25kg), remote locations or some regional areas. We will contact you if this problem arises prior to shipping the goods.

Do you offer freight insurance?
We certainly do, and highly recommend it as Australia is a big country. Insurance / Shipping protection is available and is only 1.5% of the value of the goods.

Can I pick my goods up in store?
Of course! Unlike some stores, we do not charge for you to pick up in store. We are open 7 days for your convenience, but please give us a date and time of pick up so we can make sure your goods are ready. Orders that are left for over 1 week and not picked up will be returned to stock, unless other arrangements have been made. Valid ID will be required for picking up goods that have been paid for online or over the phone.
What if I am not home for the delivery?
IF you are not home, the driver will leave a card in your mail box so you can pick-up from the local depot/post office or arrange a re-delivery.
We have found it to be much quicker & easier to have all items sent to a business address where someone will be present.

Can I ask for the courier to leave the goods at my door?
Whilst it Is possible, we highly recommend that you do not do it. All freight warranty & insurance will be void. Only do so at your own risk, if someone steals it, Musos Corner & The freight company will not be held accountable.
If you will not be able to take the delivery, it might be worth asking a friend or neighbour to take delivery of it for you.

What if it appears my goods have been freight damaged?
Please check all items before signing for them! This is very important. Do not sign for an item that appears damaged, to sign for them means "Signed for in good working order" and subsequently is out of the couriers hands, and voids insurance. If this was not possible, there can be a 24 Hour window to try and claim insurance, please contact us & the courier immediately. This only applies to orders that have paid for Insurance & are sent via courier.

Can the courier or delivery person call me prior to delivery?
Unfortunately as often as we request this, we get denied as many times. No courier or Australia post worker will call you prior to delivery despite any bribes we may try and offer.
If you select courier we will send you a tracking number which you can use to find out an estimated time of arrival for your goods, or alternatively have it sent to a business address.

Can I have my goods delivered on the weekend or after hours?
Unfortunately this is not possible at the current point in time, however you are welcome to pickup in store late night Thursday or on weekends from our Newcastle store. Please contact us to set a pickup time.
Send to a PO BOX?
We cannot ship guitars to a PO BOX under any circumstances. Australia Post will not accept deliveries over 105cm LCM, we cannot change their policy.
Products
Do i need to set up my product?
All guitars come fully set up ready to play (after a quick tuning). Banjos will need to be set up after delivery as they cannot be shipped set up unless they are bought with a case. Some products like piano stands require some basic assembly as they are flat packed for shipping. Digitial pianos and clavinovas may require some simple assembly.
Are all products brand new?
Yes! Everything we sell, unless clearly specified, is considered brand new with full warranty. Some items, especially guitars will have been taken out of their boxes for inspection, demonstration or quality assurance. This in no way effects your warranty supplied to you by Musos Corner or Australian consumer law.
Are the items individually photographed?
All images are for illustration purposes unless otherwise specified. While we wish we could take photos of every exact item, this is not always possible and we use the pictures supplied by either the a) Australian Supplier or b) Manufacturer.
If you requier an specialty photo of your instrument prior to purchase, just contact us to see if this is available.
Does my item come with Australian warranty
All items we sell come with Australian Warranty, please read our returns policy fo rmore information. Some manufactuers provide aditional warranty over the 12 months once registering the product with them. This warranty is between you and the manufactuer, but we will be happy to help should any is needed.
Product Changes
All product descriptions and specifications listed online are subject to change without notice and all images are for illustration purpose only.